In the last couple of years, tourism in Albania is certainly blooming. Many travelers are starting to discover less known destinations like Sarande and Durres that offer bars, restaurants and nighclubs. There are also smaller communities like Berat and Gjirokaster that are more oriented on promoting historic values and traditional way of life in Albania. But, one of the categories that simply cannot be left out is the beaches. So, if your quest is to visit as many coastal villages as possible, we will mention some of the extraordinary beaches you should visit while roaming in Albania.   
Vlore Beach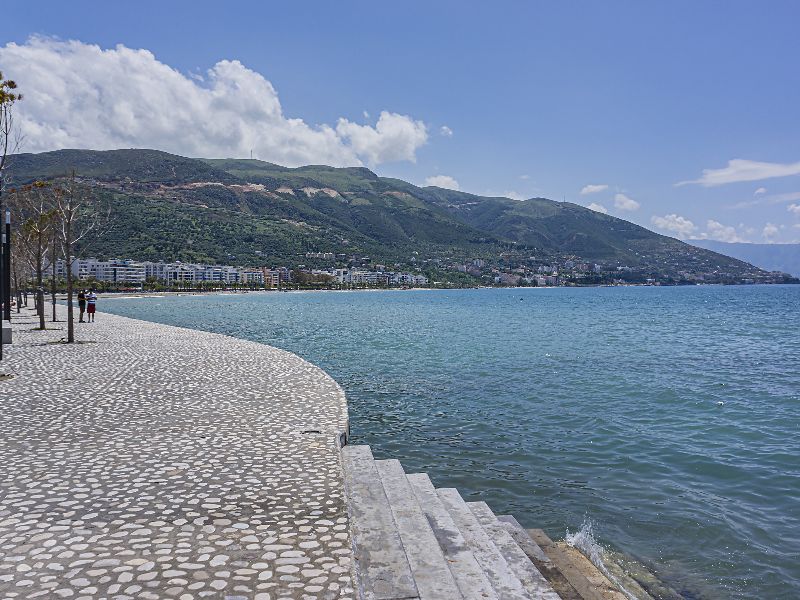 The city of Vlore itself is one of the more popular destinations in Albania. For Albanians, the city holds a significant meaning because this is where the country declared its independence from the Ottoman Empire at the start of 20th century. Some tourists are enjoying in monuments and museums and some of them are hurling towards famous beaches that are situated couple of kilometers away from the city. In the south, there is Karaburun – Sazan Marine Park. One of the exceptional notabilities of this park are the awesome looking ship ruins. They are situated underwater since the end of World War II. We hope you will spend a wholesome weekend in the city of Vlore and surrounding territories. Walk through the historic part of the city and then have a deserved rest on one of the beaches that are scattered on the outskirts.
Dhraleo Beach
For those who are looking for ultimate experience of peacefulness for at least one afternoon, Dhraleo beach will fulfill their wishes. Swimmers and bathers come here to lie down on sand and pebble surfaces in the summertime. The beach is notable for its layout because it starts on the elevated ground and it is slowly descending in the crystal blue sea. It is situated below the spectacular Llogara Pass which is very much praised among hiking enthusiasts. Biodiversity and endless beauty of the whole territory are not the only notabilities. One particular legend says that Julius Caesar traveled across Llogara Pass during the time when he was fighting a fierce war with Pompeii. History experts say that he landed with his legion on this particular beach.
Dhermi Beach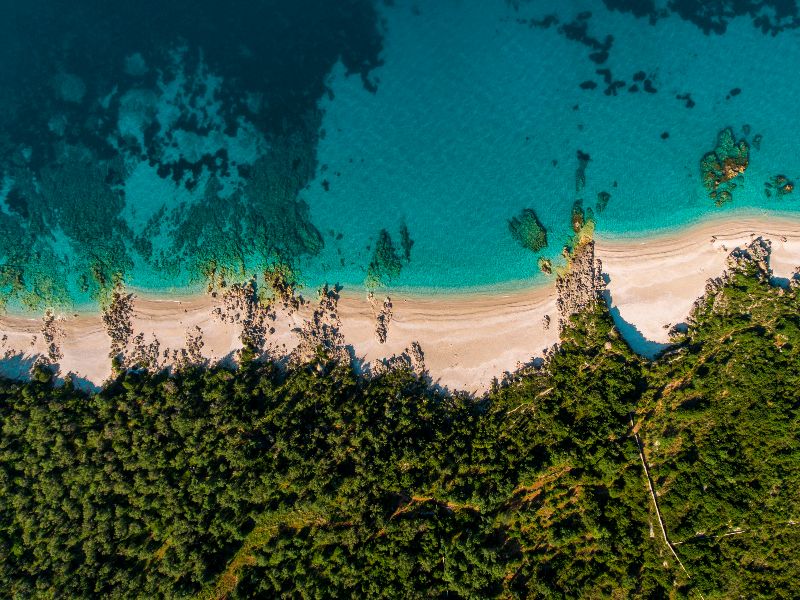 It is a location that will bring you closer to traditional aspects of Albanian architecture. The beach is surrounded by numerous stone houses and small accommodation units that are designed to be eco friendly for environment. Tourists who visit this area can observe churches that are situated here. There are really many of them to explore on your hiking day and you can see rich collections of national treasures. As for the beach itself, it is one of the more popular sites in Albania because of the lavishing nightlife that is waking up after the sun goes down. So, if you want to party whole night with other tourists and even some locals, we suggest that you check offer of the bars after your bathing session.
Drymades Beach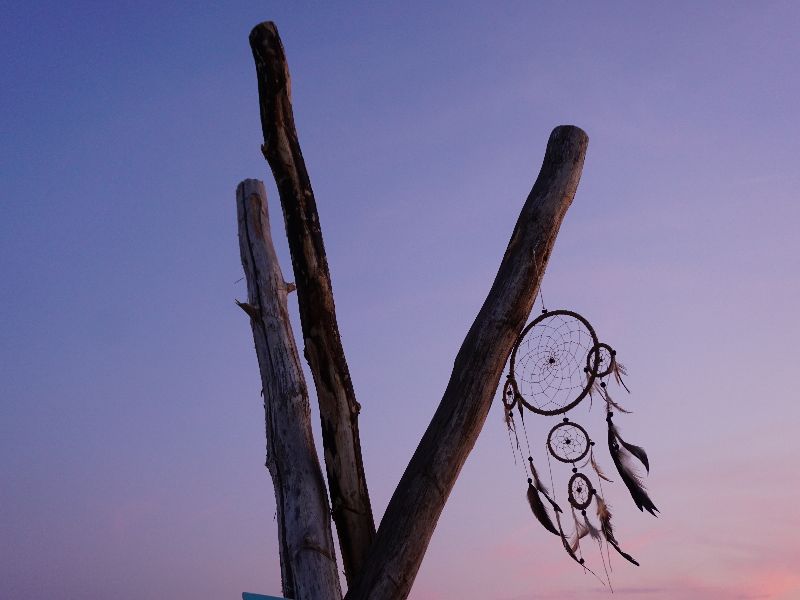 Would you like to spend one part of your day on pebble beach and another on soft sands? Your wish will come true when you come to Drymades beach. It is mainly surrounded by olive groves so you can lie on the coast with delicious aroma of nearby trees in your nose. The beach usually lacks the big crowds of people who can be found at nearby Dhermi beach. If you fall in love with the place and want to stay longer, many accommodation suites are available in the area. They are very affordable so you can stay for extended period to observe natural wonders.
Gjipe Beach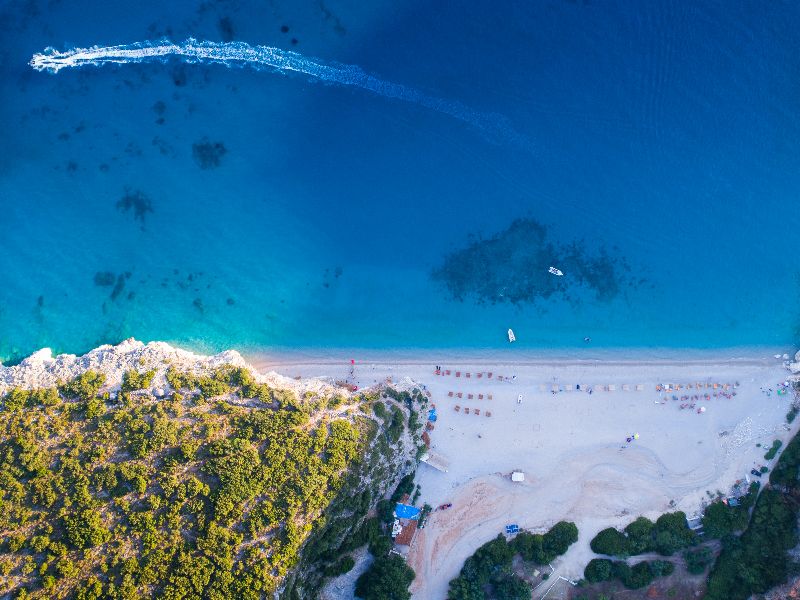 To reach this beach, you need to take a fairly long, 30 minutes walk. But, when you see it, you will conclude that the walk under the bathing sunlight was worth your time and efforts. On the first look, the beach is very simple. But when you see how this simplicity is manifested through impressions of crystal clear water, colorful cliffs and cozy atmosphere, you will conclude that this is all you need in one day.
Jale beach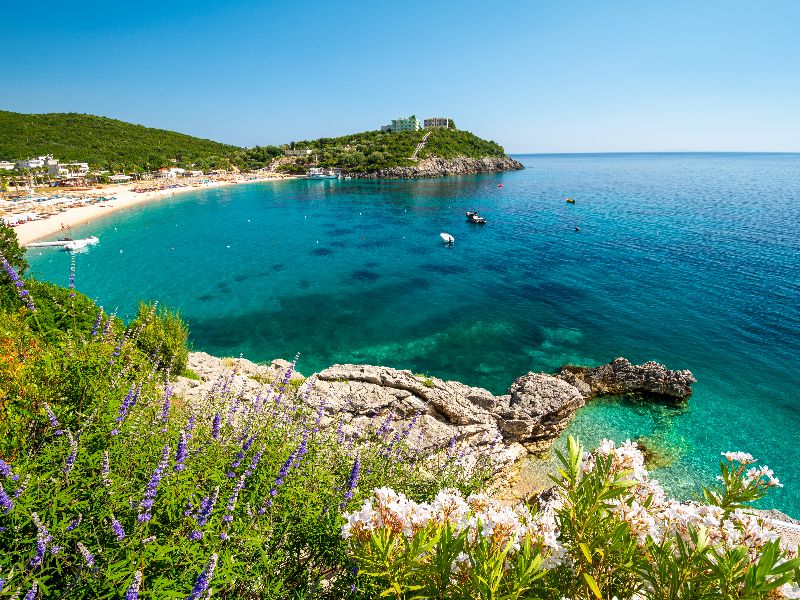 The place where wildlife is not part of the nature. It refers to manic socializing in the night hours. You can eat well in its restaurants, have a couple of drinks in the beach bars and dance the night away in disco clubs. The good thing about Albania is that there are still no huge crowds that are gathering on the single spot. So, you can enjoy seclusion even on the popular destinations like Jale beach. Also, if you own a boat, you can sail away couple of miles to reach tiny coves where you will probably be the only one to enjoy the serene atmosphere.
Himare Beach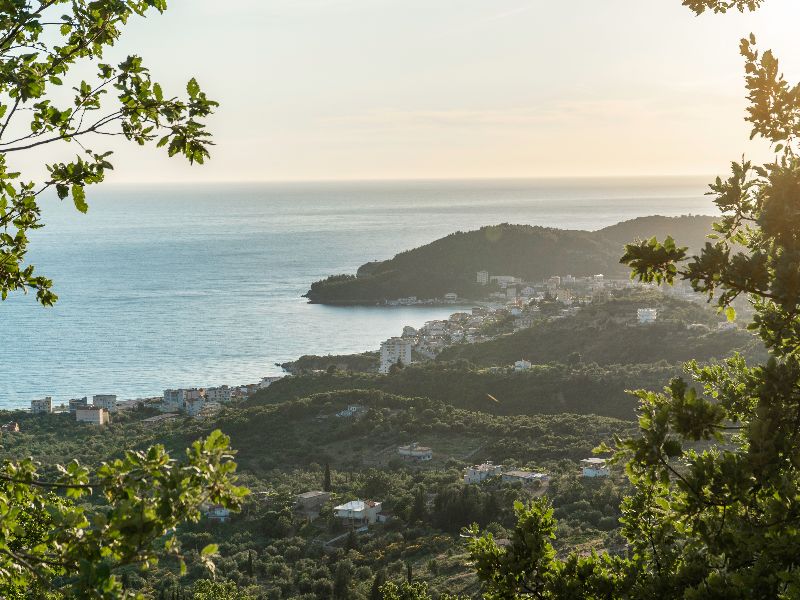 is known for its pristine, innocent blue water that is surrounding the little town of Himare. Tourists, who discover this tiny piece of peaceful heaven, can reside at the beach resorts that are situated by the bay or buy some souvenirs in one of the shops along the promenade. But, many people who come here tend to ascend to the top of the hill. Once there was a Himare Castle, now there are only ruins. There are also several abandoned stone houses that witness the times when there was a real town. According to the locals, it is best to come at the beach during sunset. You will be greeted by sublime views of the sun descending.
Llamani Beach
When you are done with sightseeing of Himare beach, take a walk in the south direction to find one of the best beaches in Albania. It is short, but wide in its layout so you won't have trouble finding a spot. The beach is still not recognized by many people so you will spend an afternoon without unnecessary noises around.
Porto Palermo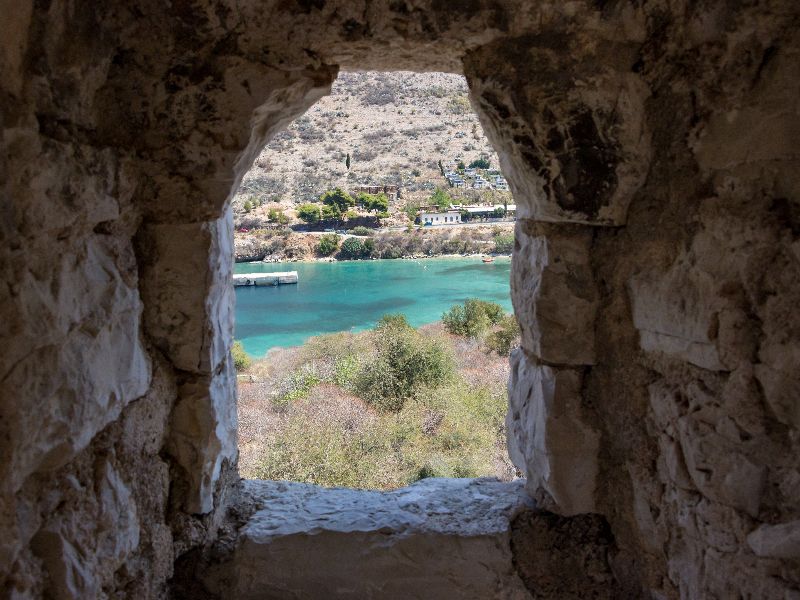 This site has quite a history. It is a pebble beach equipped with chairs and umbrellas and it has simple, yet calming view on the stronghold that is situated at the top of the nearby hill. It was built by Ali Pasha during 19th century. Also, Soviets used this location as their submarine base during the communist era. Many filmmakers felt an irresistible charm of the whole place so they decided to shoot a few movies here. Also, if you have time, move on the other side of the peninsula where the church of St. Nicholas was erected by Ali Pasha in honor of his wife.
Qeparo Beach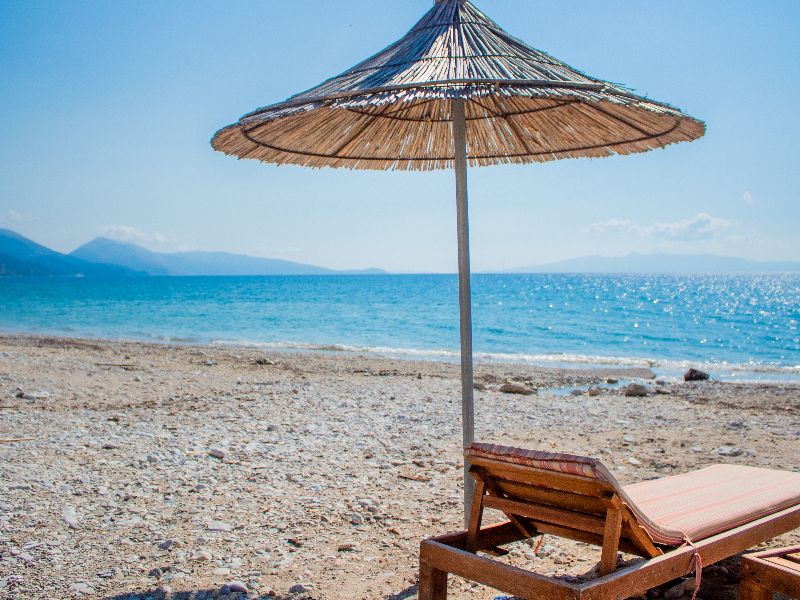 One of the rare beaches in Albania that has a sandy surface in shallow water. Although the coast is covered with shingles, you can ease your feet on the sand when you enter the sea. After you are done with your daily swimming and bathing, ascend to the nearby hill to discover another haunting, but charming ghost town.
Borsh Beach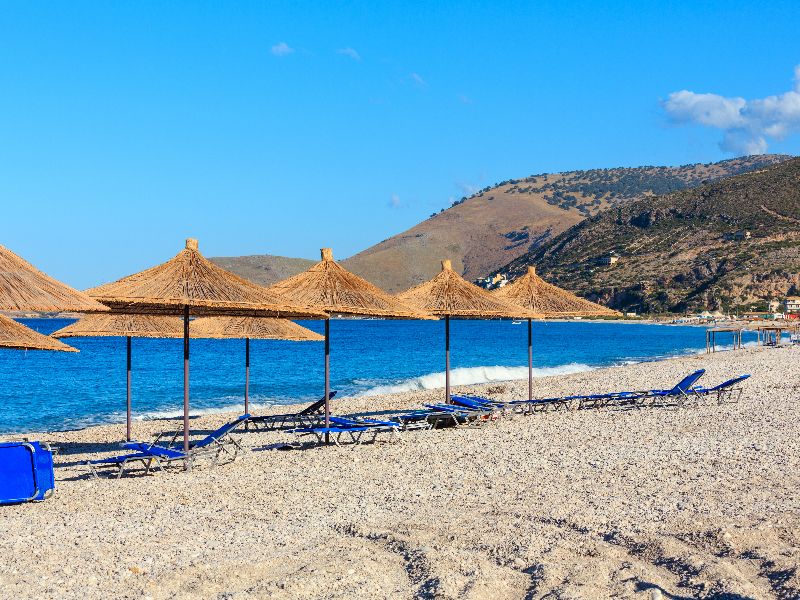 One of the longest beaches in Ioninan Sea coast. Also, it is known for its blue sea in which the water can be both limpid and warm. If you don't like sun – soaking too much, take an opportunity to take a walk on its long stretch. After you are done with combining walking and bathing, make sure you visit the Byzantine castle in the nearby village. Also, the area is known for its production of the olive oil, so make sure you try some of it.
Ksamil Beach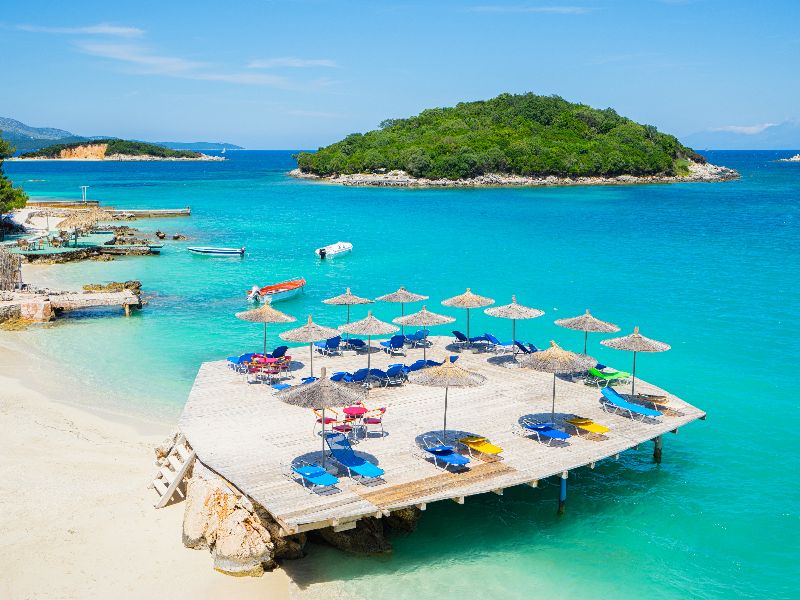 According to the satisfied tourists, Ksamil beach is one of the absolute best in Albania. It is just a few kilometers away from the Greek border and you can observe the island of Corfu from its shore. If you want to spend tranquil vacation away from noisy, excited tourists, we recommend you to choose Ksamil. It is sublime just like beaches in the Greece on the other side and there are fewer crowds. In case that you are visiting Ksamil Bay, swim to one of the four little islets. There are perfect getaway destinations and if you are lucky, you will be completely alone there.
Mirror Beach (Pasqyra):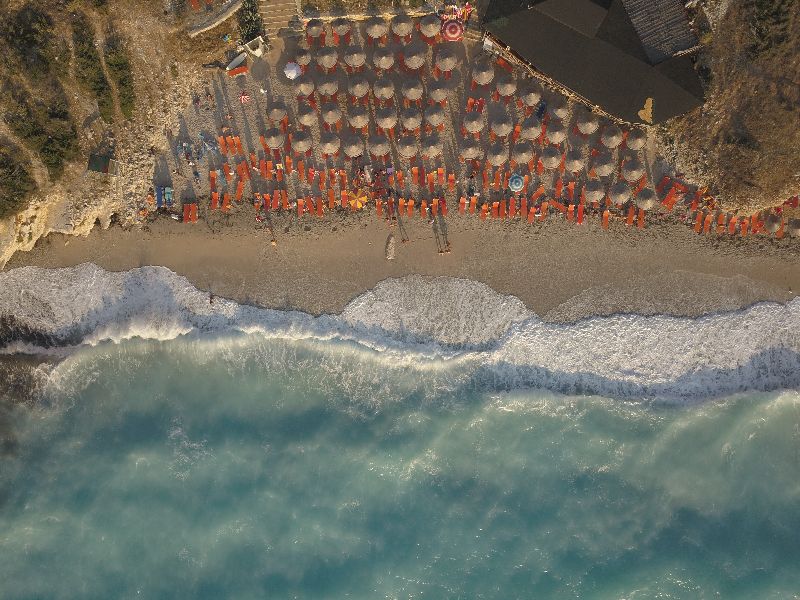 The locals call it "Plazhi Pasqyra" because the water is so clear and refined that you can see your reflection in it. Before you enter the sea, spend a few moments observing its turquoise color. You will be one with yourself on this beach because there are no resorts or hotels in the area. If you are looking for something that is more hidden and less –crowded, there are few smaller beaches like Central and Liman. To see all the unique beaches in this area, we suggest you book a room in Saranda and get a rental car so you can go on a little adventure.