To connect with this part of Croatia, this suggested charter itinerary will take you to some lonesome, but charming ,island villages, somewhat mysterious coves and bays, and simple but satisfied locals who are making their living from cultivation of olives. We hope that this itinerary will get you dreaming about your next yacht charter in Croatia.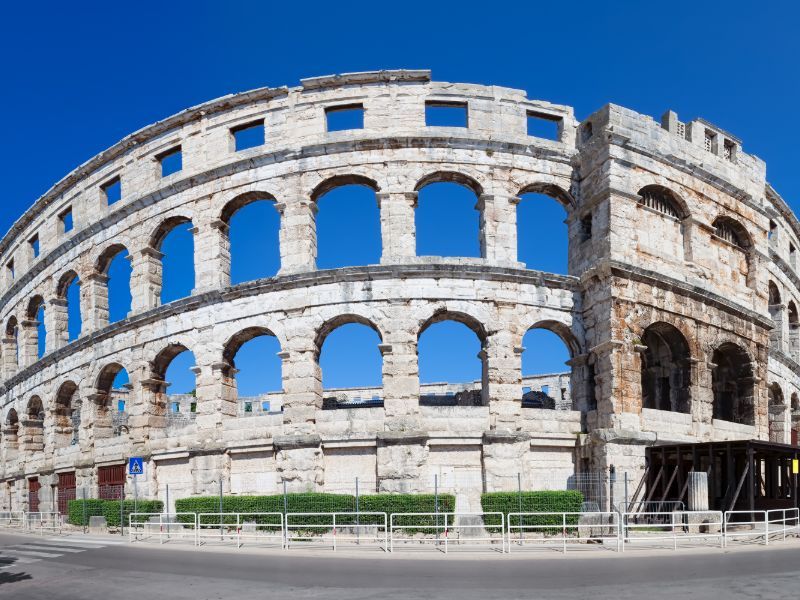 Day 1. Pula to Susak: Susak is one of those islands which, although fairly small in size, is giving more satisfaction to its visitors than some other bigger touristic focal points on Adriatic Sea. Because sometimes, less is more and visitors of Susak have the opportunity to spend an uninterrupted vacation surrounded by sandy beaches, thick, lively forests and tiny stone houses that look like the time on the island stopped some 40 years ago. You can choose between lounging at one of Susak's famous sandy beaches or take a leisure stroll to the upper village to observe the simpleness of old buildings. Many parts of the islands are uninhabited so you can find a suitable path and walk in search for remotely located beaches and coves.
Day 2. Susak to Premuda to Silba: The island of Premuda is sometimes called "The island of happiness. Mainly because their inhabitants are living a simple, happy life while cultivating olives, vines and figs. The only settlement is called Premuda where you can see couple of churches including St. Jakob Apostol church, St. Cyriacus church, and the church of blessed virgin Mary. Also, you can see the remains of Glagolitic culture and writing system on the island.
The island of Silba is sometimes called "the island of love and pedestrians". There is an abundance of old family houses around the islands and indigenous plants like laurel, lavender and rosemary. One of the most authentic sites and symbols of the island is the Toreta: The famous tower of love that tells a story of captain Marinić that married young Domenica instead of her mother. If you are feeling active, consider renting some scuba diving equipment and plunge into the sea to discover a 1500-year-old Sarcophagus.
Day 3. Silba to Pag: Your arriving point should be the settlement of Lun situated in the far north of the island. The place is notable for serene atmosphere, songs of crickets and fragrant scents of numerous olive tree. Because of its characteristics, the place was proclaimed a botanic reservation in 1963.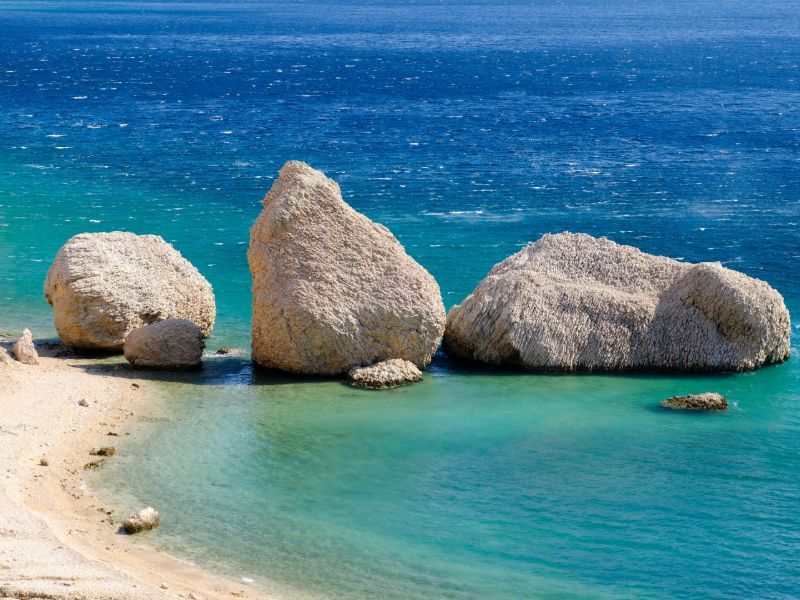 When you come to Pag, you will have a notion that you arrived at the surface of the moon. Barren, harsh rocks scattered across the island are making an almost lunar atmosphere. It is definitely one of the more unusual islands in Croatia. Many party goers are allured to this island because of numerous entertaining events held in Zrće beach in Novalja. The town of Novalja also holds a notable Roman monument called Talijanova buža: Italian hole. It is an aqueduct that once supplied the waters from surrounding fields. If the lunch our is getting near, tuck into succulent Pag lamb, a very well-known delicatessen of the island. As an appetizer, ask your waiter to bring you some of the authentic Pag cheese.
Day 4. Pag to Rab and to Cres: The island of Rab is mostly barren and karst on the north-eastern side and the southwestern side is mostly covered with Oak forests common for the Medditerrean territories and climate. It was first mentioned in 360 BC as Arba. On Illyrian – Liburnian language, the name means "Dark, obscure and green forested". Get to know flora and fauna of the island by visiting Komrčar Park alongside Rab Old town and have a picnic there. It is an ideal place to those who have some botanic knowledge because of the wide range of cypresses, oaks an Aleppo pines. If you are looking for a nifty place to shake your legs by swimming and water-soaking, visit the famous Paradise beach at the southern end of Lopar. Stay long enough to become a part of beach parties in the evening. To see the exhibits that originate far away in the history, visit the town of Rab and see the skull of St. Christopher who was beheaded around 250 A.D. In the Rab's Old Town, facing the harbour, you can dine savory fish in a restaurant Santa Maria, situated in a 200-year-old palace.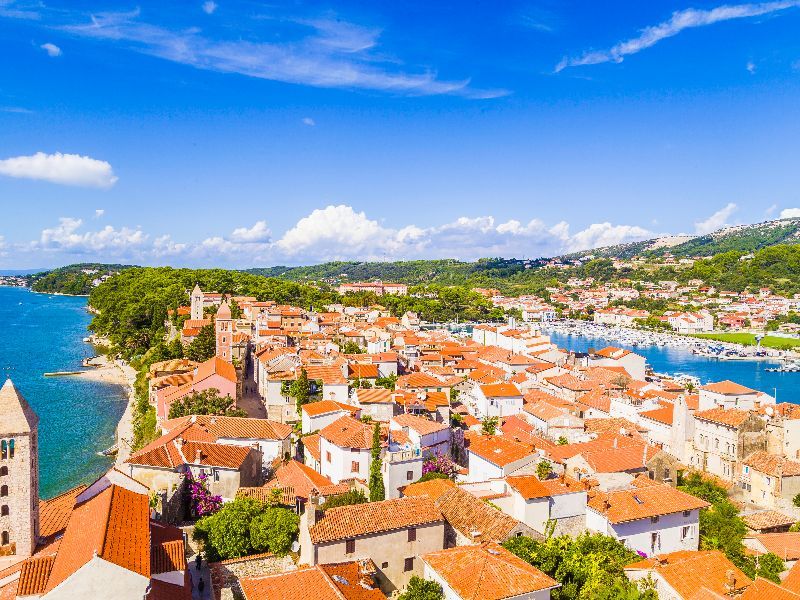 Cres is the biggest Adriatic island. It is known to have very rich flora and many of the floral species are considered to be relic and endemic. Also, nature lovers will spend many captivating hours in observing fauna that include one very rare type of bird: The Eurasian griffon. While revealing sparsely populated territories on the island, take some time to visit Lubenice: A 4.000-year-old settlement. Just a few people live there and you will be surrounded by a peculiar feeling of calmness and solitude. One of the most renowned Croatian sculpturers Ivan Meštrović made some bronze statues that are exhibited in the town of Osor. Visit the town to find out cultural treasures that are situated there. It has to be mentioned that Cres has its own Blue Cave and you can reach it from Žanja beach near Lubenice.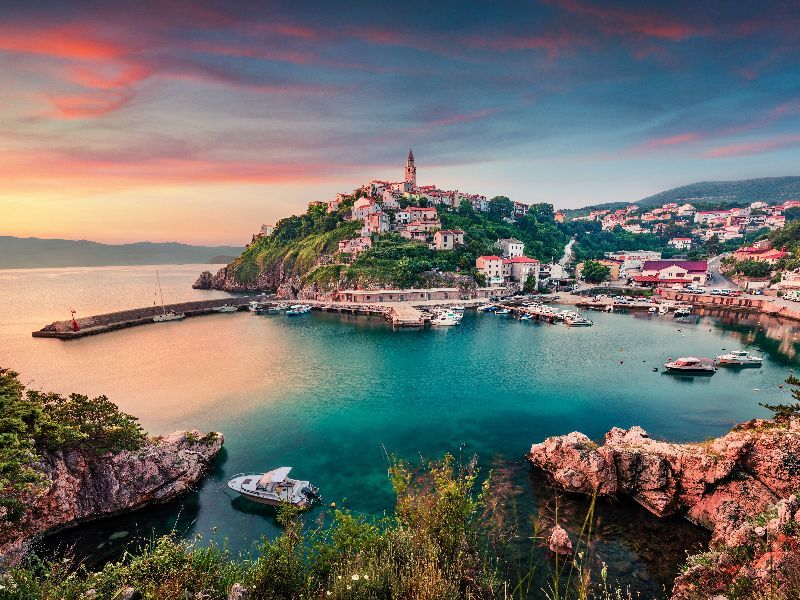 Day 5: Cres to Krk: Insula Aurea – the island of Krk. At the beginning of 20th century, people nicknamed it "the 6th continent". People who visit the island can discover its unusual relief, natural formations like picturesque coves and lagoons, fertile fields very suitable for cultivation of vegetables and mountainous landscape covered with bare limestone. The variety of fauna species is very apparent. Lovers of nature and nature observers can search the nature areas to find the rare specie of vulture vrški tić. Start your island roaming by visiting the cave of Biserujka to see its stupendous stalactites and stalagmites. To celebrate the Glagolitic writing system, an early Slavic script, academics came up with the series of 34 sculptors, each of the representing a letter in Glagolitic alphabet. The trail starts in Baška and it leads to the Stara Riva by the waterfront. To find out where Croats came from, visit church of St. Mary in Jurandvor and find a replica of Bašćanska tablet: One of the oldest Croatian documents. Have you ever heard about wakeboard? It is a combination of skiing, surfing and snowboarding. Go to Wakeboard Center Krk and give it a go!
Day 6: Krk to Opatija: Opatija is one of the most elegant, upscaled Croatian towns. There is a vast Austro-Hungarian influence that's manifested through aristocratic villas that are converted into hotels and apartments. This is the place where Croatian tourism started in 19th century. Elites were gathering here in local spa's and the emperor Franz Joseph 1st was one of the most notable guests. The climate is very favourable with fragrant, salty scent of Kvarner sea and winds that come from nearby Učka mountain. While in the city, stroll through famous walk of fame and meet famous Croats that made significant contribution in fields of art, sport and science. While by the sea, take out your camera and make a selfie with the statue "Maiden with a segull". When the night is near, visit a museum of Croatian tourism or walk on the famous promenade of Opatija.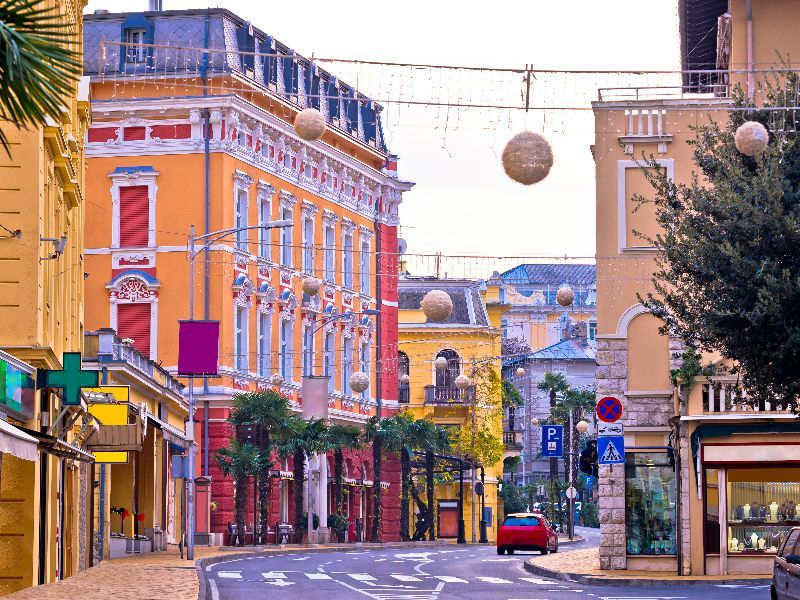 Day 7: Opatija to Premantura: Premantura really stands out in terms of uniqueness and the pristine colour of the Adriatic Sea. Of course, such a stunning place has to have belonging beaches so tourists can feel the serenity and blueness of water. While in the town, visit the church of St. Lawrence or indulge in island hopping to see little islets like Porer. There you can see walloping stone monument and lighthouse that you can even rent for your purposes. Such a divine sea deserves to be used for water sports and you can have some action time by surfing, sailing and water skiing.
Day 8: Premantura – Pula: It is the last day and you made a full circle: You started in Pula and finished in the same town. It is the Istria's capital, known for its broad Roman heritage, splendidly preserved Old core of the town and an archaeological museum with findings from Illyrian, Roman and medieval times. Visit some notable monuments like Arch of Sergii, Temple of Augustus and the gate of Hercules to discover why Pula was one of the main focal points in this part of Europe.