The islands in the south Adriatic are like a bunch of pearls in a geographic neckless. To praise each and every one of them, you have to follow a particular pattern. We sincerely hope we connected all the pearls in a meaningful, integral way and that the authentic spirits of the islands will pass some vigorous energy on you.
Day 1: Dubrovnik – Elafiti islands: Elaphiti consist of 6 islands and many more smaller islets. The scenery is simply enticing and islands can be a perfect getaway from noisy crowds of Dubrovnik. There is a lot of things to do and we highly recommend you to try some local wines, feast on fresh seafood in local restaurants and discover mystical caves around the islands that will guide you to the dark world of hidden, secluded Elaphiti territories: A perfect invitation to spend a wholesome, fraught day roaming around these inimitable islands.
Day 2: Elaphiti islands – Šipan : Šipan is the largest of all Elaphiti islands and a very fertile ground for cultivation of olive trees. The island even entered the Guinness book of records for the largest number of olive trees per square meter. In the past locals were very dedicated to their religious believes and 43 churches speak to that behalf. Numerous palaces that were formerly a residential place for the local elite are reconstructed today to keep the memory of past fame alive. Also, one of the most famous restaurants in south Croatia, BOWA, is situated on the bay of Vrbova. After you are done with extensive hiking or cycling around vineyards and olive groves, visit it and be amazed by restaurant's philosophy and al fresco sea delicatessens.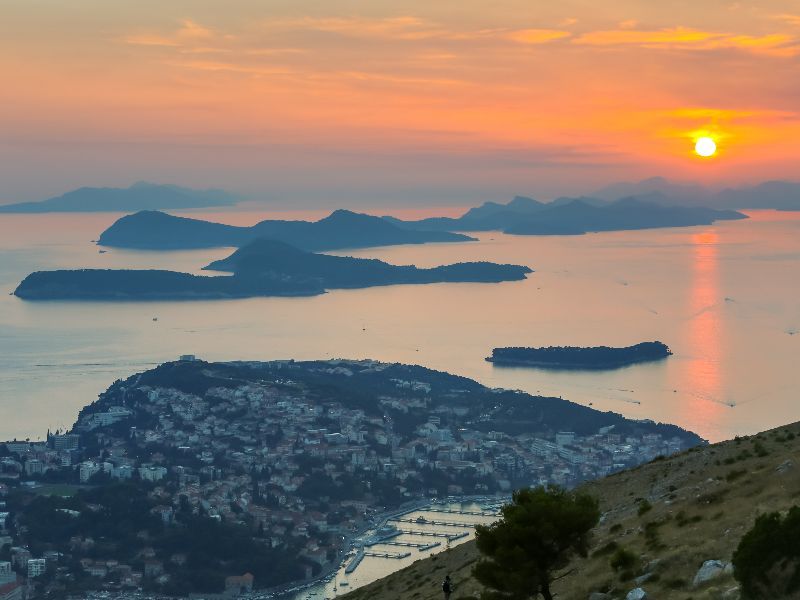 Day 3: Sipan– Ston and Pelješac: In the past, Ston was one of the essential parts of Dubrovnik Republic and today, its walls witness the strength of this small, but powerful town. Since the fortified walls had to be long and massive to fight off the conquerors, today are considered the second biggest wall complex in the world, just behind the great wall of China. Descend from the walls in upper parts of the town to find the oldest active saltworks and bring a spicy souvenir to your home. Don't forget to treat yourself with a lunch authentic for Ston and slurp some tasty oysters at locals restaurants. Continue further up to Pelješac through its dense forests, stunning beaches and secluded coves and bays. Since, ancient times, the peninsula was famous for its vineyards. Valuable heritage is cherished even today, and two of the most famous Croatian wine sorts are coming from this region: Dingač and Postup. If you have extra 2 hours, climb up to the hill of St. Ilija situated northwest of Orebić. Complete your day by evening bathing on Duba and Dobra beaches northwest of the island. It is very easy to fall in love with this crystal clear beaches and almost transparent, shiny sea around them.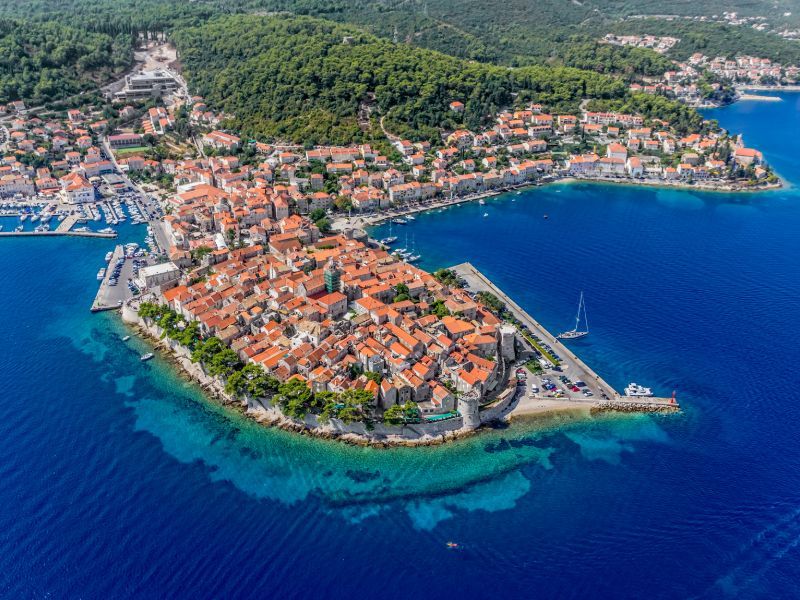 Day 4:  Pelješac to Lumbarda and Korčula: In the history, Lumbardija was a countryside vacation destination for Korčula bishops and was some sort of a melting pot of people that had various religious and cultural beliefs. It is also one of the main recreational places on the island as you can try various water and land sports like sailing, swimming diving and even a miniature soccer. Continue further to other settlements on Korčula and found out its historic, diverse Venetian-Gothic architecture. Since there is so many prodigious, exceptional buildings and monuments, people often call Korčula "A little Dubrovnik". Stay long enough and treat yourself with authentic Korčula wine Grk and watch a autochthonous sword dance performed in Moreska (Korčula old town)
Day 5: Vela Luka: While in Vela Luka on Korčula, take a leisure walk to Vela Spila and discover how our precursors lived some 20.000 years ago. Archaeologists found many interesting, alluring findings in recent years and you can see them on display visit the cultural centre in the town of Vela Luka. Also, some scientists discovered that muds and water pools in Vela Luka are very rich with nutritious matter and elements. So, if you have some spare time on your hands, enter a nutritious, healing programs of Vela Luka and heal your body and soul for at least one day.
Day 6: Vela Luka to Lastovo: In the past, Lastovo was closed for foreigners and housed several military bases. Today, the island and its homonymous town are mostly avoided by mass groups of tourists and are considered one of the Croatian sites that are "off the beaten path". If you wish to discover the true beauty of this sparsely populated island and indulge in cycling and hiking, you should definitely come here often. The whole island is one of the Croatia's Parks of Nature and ascending to the highest peak of Lastovo, Hum, can be very rewarding if you would like to see vast, open sea around you.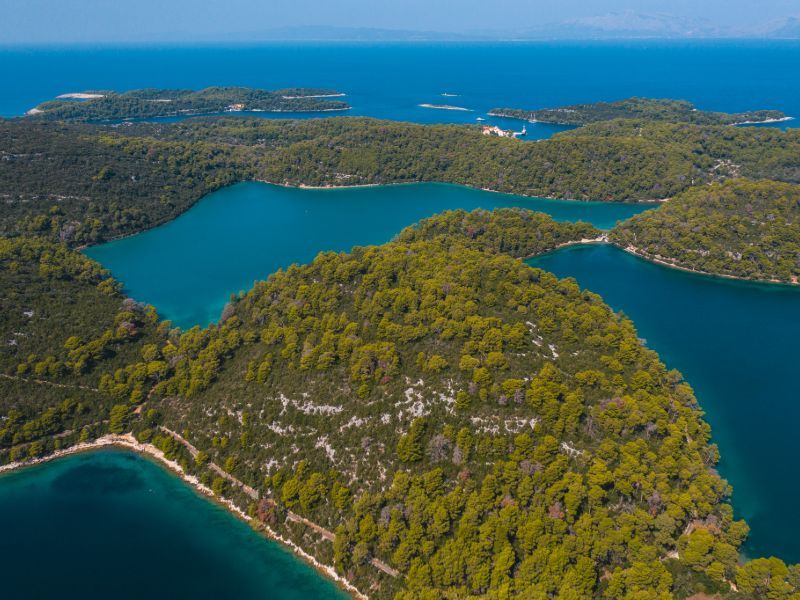 Day 7: Lastovo to Mljet. Mljet is an island where Mediterranean vegetation is showing its true, vibrant colours. That's why it is called "the greenest island on Adriatic". The locals live a wholesome life by making local wine, olives and goat cheese. Also, Mljet is one of Croatia's National Park where you can observe a rarely seen natural phenomenon: Lakes with salty water. Swimming in the lakes is completely allowed and you can refresh yourself or even rent a kayak to enjoy the calmness of the water. Visit the Benedictine monastery on St. Mary's island on Veliko Jezero. It is one of the oldest sacral buildings on this part of Adriatic. Discover the stupendous bay Pružurska or head towards the south of the island to have a delightful bath at Saplunara beach. According to the legend, a Greek warrior Odysseus spent a part of his life on the island of Mljet. You can visit the so-called Odysseus cave near Babino Polje in the south of the island.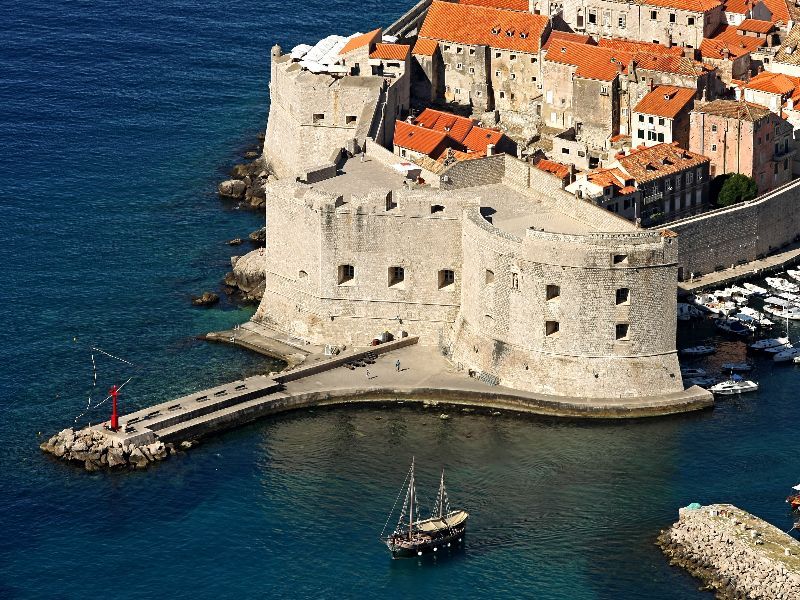 Day 8: Mljet to Dubrovnik. After 8 days, your tour is coming to an end. While sipping coffee at Stradun or visiting Lovrijenac fortress, remember the places you visited. Seek for additional last day opportunities and take a chance to visit mount of Srđ, see gorgeous Dubrovnik monuments from above, go to Lokrum island to clean your lungs in its botanic garden or marvel at ornaments of Orlando's column and Dubrovnik cathedral. Overall, wherever you go in this legendary city, its historic buildings and monuments will remind you of its true importance in the past and in the present and why it is considered a true "jewel of Adriatic".