Adriatic Sea has many great island – hopping opportunities. With warm weather that is apparent for the most of the summertime, Croatian islands are inviting tourists for the fun below the warm summer sun. Croatia is notable for having almost 6.000 miles of coastline for wanderlusts and adventure seekers to explore and enjoy, especially when it comes to charismatic port towns with peculiar locals and unique local culture. Additionally, there are almost 1300 islands. Each of them has its own background story and it is giving its visitors adrenaline challenges, captivating background stories from history and gastronomical delights common for particular parts of Adriatic Sea. Between numerous islands, there are engaging sea routes that will guide you to your desired destination. In the paragraphs below, we chose one of the suggested charter routes to consider if starting from Split.
Day 1: Split to Brač island: On the first day, take a trip to the island of Brač that's one of the closest islands to Split. You probably heard before about the famous beach of Zlatni Rat so we suggest you to find and an anchor spot on the south of an islands and experience a wonderful bath and even indulge in windsurfing. Hiking enthusiasts will probably want to visit Vidova Gora from where people can the rest of the island and Croatian mainland. Head towards Pučišća and discover the famous stonemasonry school: A place that produced stones used for building one part of White House in Washington. On the Bol seafront, visit one of the wineries and treat yourself with a wine sort called Stina. Stina means rock for which the island is famous.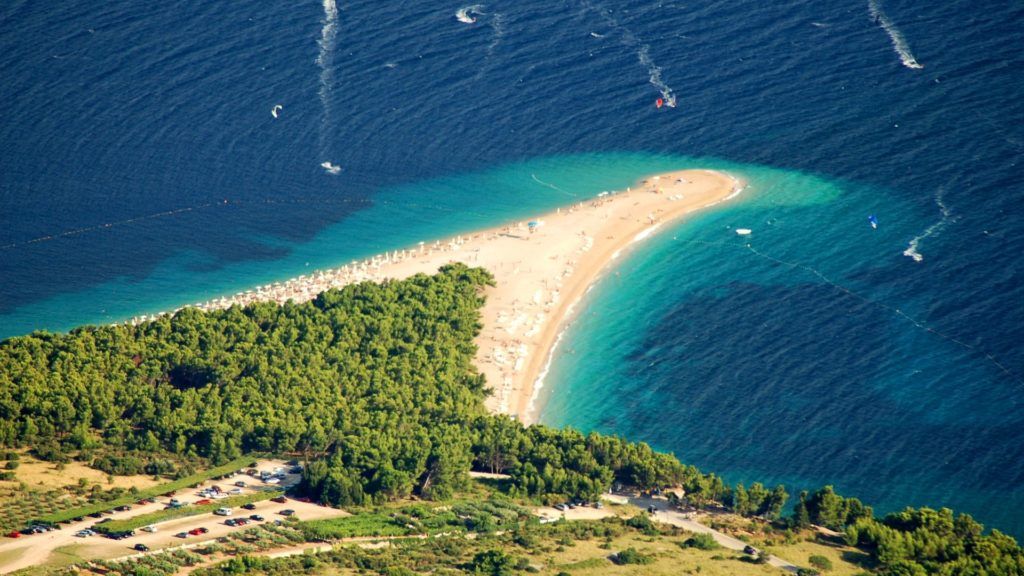 Day 2: Brač to Šolta: Northwest of Split, there is the island of Šolta and a lovely destination for the second day of your island hopping. It is a quaint, peaceful island with an abundance of pebble beaches and calm, hospitable locals. While you anchor your boat in the settlements of Nečujam and Rogač, start exploring the island and find locals that will teach you how to make honey, oil and wine. If you see the opportunity, help locals in olive harvest and after the hard work is done, taste authentic wine called Dobričić. If you are into hiking, dress up properly and climb to the peak called Vela Straža to see the horizon from above.
Day 3: Šolta to Vis and Biševo: Continue further to the south to reach the island of Vis. The island consist of several smaller settlements, but the main one is the little town of Vis. Although Vis is very popular among tourists, you can still see the nature in its seminal, pristine edition: Completely clean and unspoiled. Don't miss the opportunity to visit Stiniva beach that was proclaimed the prettiest beach in Europe in 2016. Also, one of the caves on the islands was used by Yugolsavian leader Josip Broz Tito. He chose it as his headquarters for planning strategies and attacks. Also, one of the museums houses numerous archaeological and some of them are old as 400 BC. Visit it to find exhibits of an old Greek civilization. Don't forget to reserve some time for hiking and visit the highest point of the island: Moun Hum. Since you are in close vicinity of Biševo island, take a look at enchanting Blue Cave that's famous for its unmatched glimmer of light. Near the island of Ravnik, marvel at another natural phenomenon: A green cave.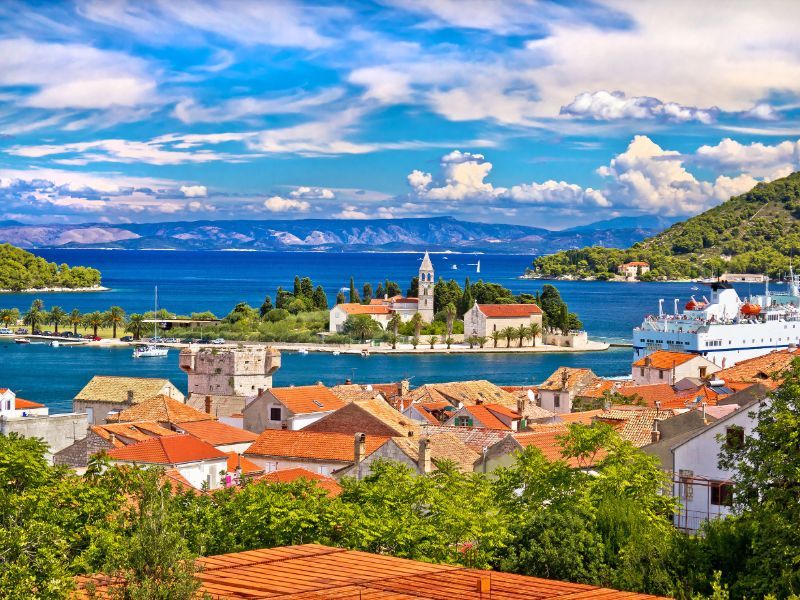 Day 4: Vis to Hvar: Continue little bit further to the northeast and reach the island of Hvar. The capital town of Hvar has numerous historic buildings that are wonderfully preserved and some of them can be a great viewpoint if you want to see the rest of the island, including Španjola fortress. Hvar is known for its fragrant smell of lavender and one of the vineyards beneath the hill of St. Nedjelja is a home to a famous wine sort of Plavac Mali. For a delightful bathing and sunbathing experience, visit Dubovica beach. Near Hvar there are Pakleni islands: Delightful set of islands known for its glistening, shimmering blue sea and pristine territories untouched by human hand. Also, there are numerous beaches and coves waiting to be discovered. So, we suggest you to go on a kayaking tour around the island. Have a drink at one of the beach bars or circle around the islands to find mystic, undiscovered coves and caves.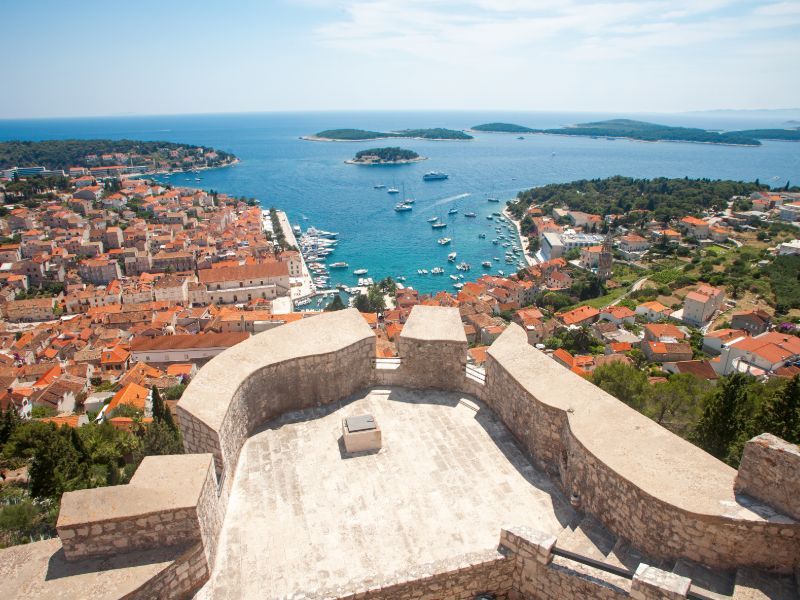 Day 5: Hvar to Korčula: Next up is Korčula, the island known for its dense forest that was called Kerkyra Melania by the ancient Greeks. Since the main town Korčula is known for its squares, palaces, churches that originate far away in the history, some people called it "A little Dubrovnik". Most of the locals live from cultivation of olive oil and wine. While there, make a search for local souvenirs and buy some dessert wine called Grk. There is a certain legend about Marco Polo being born here. To find more about his extraordinary life, visit his museum in the center of Korčula town. Local gastronomy will surely make you carve for some one of a kind, authentic food so we suggest you to try peka and zrnovski makaruni. If you are staying during the night, stay long enough to hear local klapa's performing traditional folk music.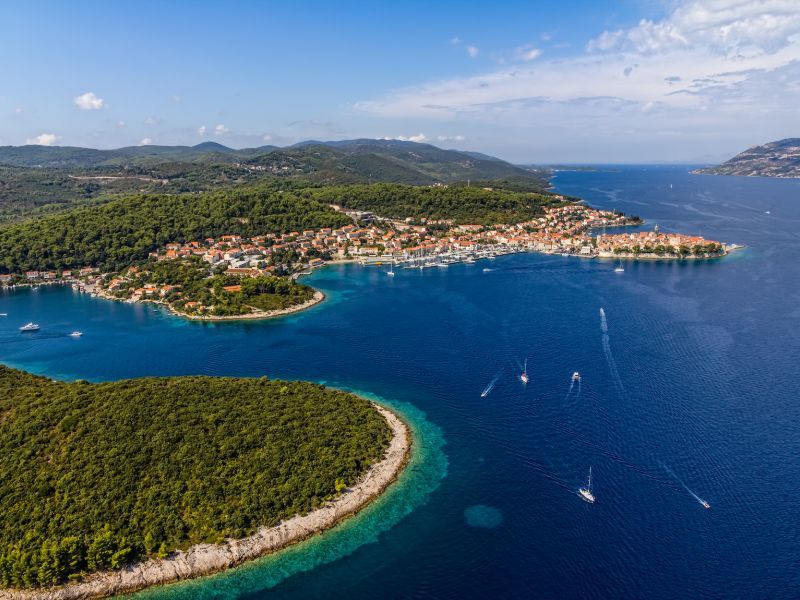 Day 6: Korčula to Pelješac: Just by the island of Korčula, there is Pelješac peninsula. One of the most famous Croatian wine sorts originate from Pelješac: Dingač and Postup gained recognition in the whole world. Although there are numerous settlements, most of the island is covered with prolific olive and pine groves and vibrant bush groves. North of Penisula, there is a settlement of Ston: The village very notable in the times of Dubrovnik republic. Today, the locals are living a peaceful life while making salt in Ston's saltworks. Former defensive walls of Ston are considered to be the second largest in the world and were made by famous foreign and local builders. As for the local food, visit some of the Ston's restaurants and slurp some locally cultivated oysters. If you have extra 2 hours and suitable equipment, climb up to the hill of St. Ilija. Do you know that, in the village of Viganj, there are clubs and schools dedicated to windsurfing? Visit the village to learn some new tricks that will make your windsurfing skills enhanced.
Day 7: Pelješac to Mljet: Leave island of Mljet for the last day. The whole island is one of Croatian's National Parks and it is notable for its crystal-clear air. According to the legend, Greek warrior Odysseus spent 7 days of his life on the island. The National Park is surrounded by two lakes: Great and small lake" and one of the oldest church complexes on the Adriatic, Benedictine monastery, is situated on the small islands in the middle of the Great lake. It is a perfect islands to spend a solitary day because there aren't many locals nor tourists. In case you want to use a vacation for scuba-diving, visit Mljet coral reef of famed Odysseus cave.
Day 8: Mljet to Dubrovnik:
From 13th century, Dubrovnik is impressing both visitors and conquerors. Not even the great earthquake could damage it enough to annul the splendor of Gothic, Renaissance and Baroque churches, palaces and monuments. The preserved look and virtually indestructible monuments made Dubrovnik one of the most visited and charismatic towns in the world: A real place to see famous celebrities walking by the old city walls or enjoying coffee at Stradun. One of the best ways to catch a sight of the city is to get a cable car to the mount of Srđ and see all glory of prodigious walls, ornamented churches and spacious squares. If you need time to decide what to visit next, head towards Stradun to get a cup of coffee to observe the life passing by you. We highly recommend the visiting of Dubrovnik cathedral, seeking the history in Sponza palace or going to Lokrum islands to inhale the delicious scent of its botanical garden.