We sincerely hope your spirits are elevated for an astonishing journey on Adriatic Sea. This sublime motor yacht Burger 105 will make your island – hopping adventure the most exquisite experience you had in years. To introduce you with this yacht in the proper manner, we will present some need-to-know features of Burger 105 and mention a couple of fine details that will help you to make a decision of renting it next season.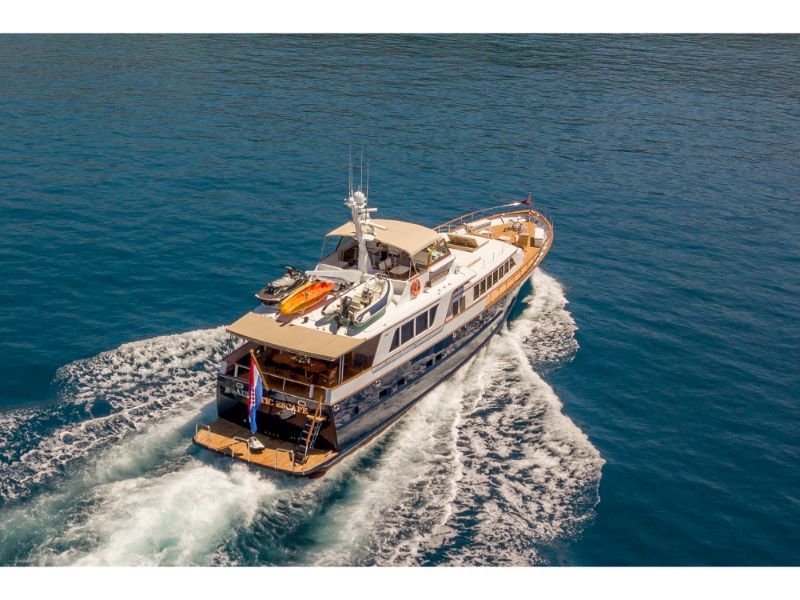 Stunning features of Burger 105 motor yacht, lovely amenities and water toys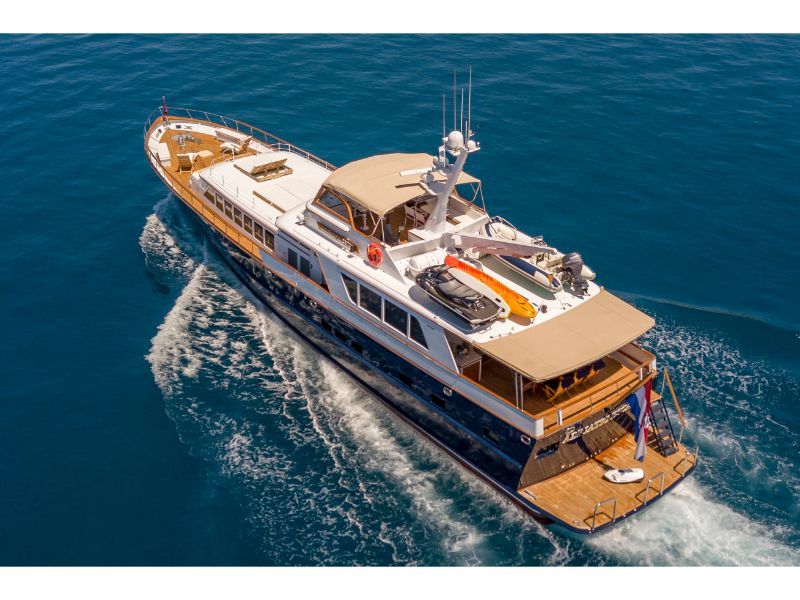 This yacht was made in 1997, but it was completely refurnished in 2018. Since it has a fuel capacity of 32 000 L, this yacht is suitable for long range distance on seas and oceans with most comfort you can ask for. Aesthetically, the yacht attracts many curious looks because of its distinguished dark blue hull and off-white overall structure that's bringing luxury on the whole new level. The upscaled elegance of the yacht is inviting you are your guests for lounging in the main saloon area that is also a place for dining and socializing. The interior is designed with traditional and contemporary architectural solutions in mind and the position of windows is giving much natural light during the day. Spacious outside premises are giving an opportunity for sun-soaking beneath Adriatic sun. There is also an outdoor dining area if you rather prefer having your dinner in al fresco way. Among things that will make your journey comfortable, air condition, CD and DVD players and a TV are available for setting up the audio-visual mood. One of the new amenities for 2021. is a jacuzzi so make sure you try all the different contents this prodigious motor yacht is offering
In case you like to indulge in adrenaline activities to make the most of your day, use some equipment for water entertainment and revitalize your body and soul to the maximum. Among available water toys, there is a jet ski, sea bob, kayak, tender, fishing equipment and SUP. If you have any wishes and requests while on board, feel free to address the attentive crew that consists of captain, chef, sailor and hostess.
Available accommodation units on Burger 105 motor yacht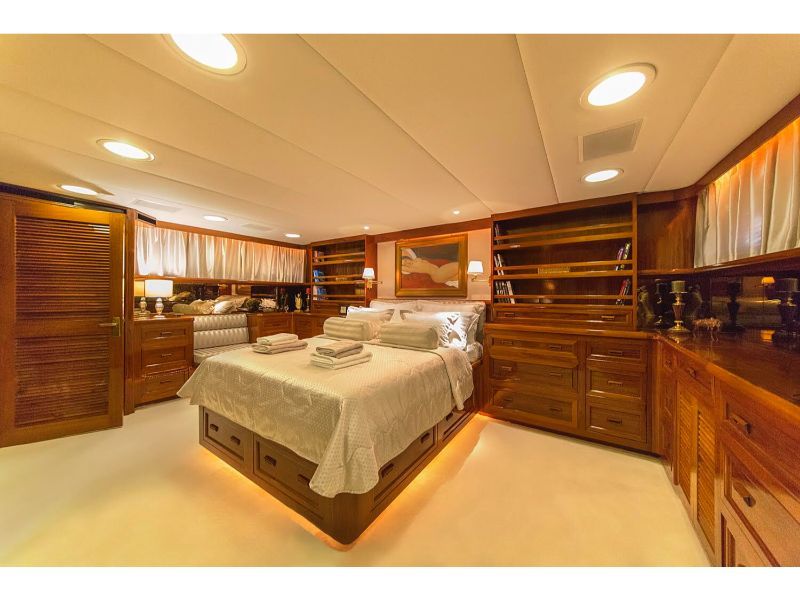 If you are planning to host some guest for dinner, offer them an overnight stay. The Burger 105 motor yacht is big enough to accommodate up to 10 people. 5 spacious cabins are on your disposition. Among room types, there are 3 double and 2 twin cabins available. In addition, there are 5 toilets bathrooms available so everyone can have their own privacy.  
Basic charter price and additional costs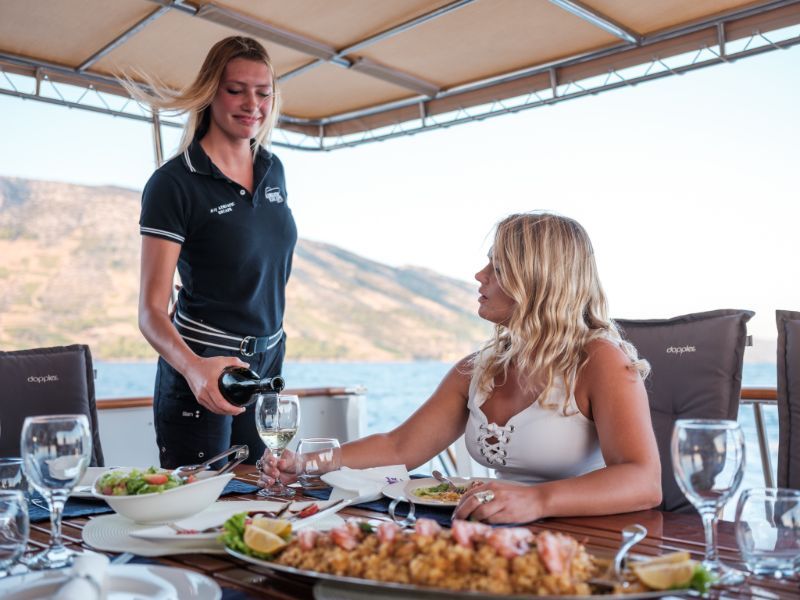 The basic price includes the cost of daily/weekly charter, depending on your agreement with the yacht renter, the continuous service of 4 professional crew members, welcome package that includes supplies you might need during your journey: food, ingredients and drinks, breakfast in case you decide for a multi – day charter, wi -fi on the whole motor yacht, use of water toys (you have to pay extra for the fuel in case the vessels need to be refilled) and final cleaning.
Advance provisioning allowance of 30% haw to be paid. From APA, the captain covers the cost of fuel, marina fees, additional food and extra expanses during the charter. If the part of the provision is not used during the charter, it will be refunded to the payer at the end of the journey.   
The whole exterior and outside of the motor yacht is really something unique. This gallery below will prove it.