Luxury accommodation options are growing in Croatia as more investments get into the destination. There are now handful of accommodation that are one of our top choices and not only because of the categorization but also because of the service they provide to our guests. We have picked best off in different areas of Croatia.
Zagreb:
Hotel Esplanade
This hotel is one of those places that wonderfully combine historic atmosphere with contemporary glamour and classiness. Helpful stuff will do their best to adapt to your needs and answer just about every question you have on Zagreb. Its high reputation as a centre of Zagreb's social name is well known in international circles and in the history, the hotel was a residence for renowned presidents, politicians, musicians and movie stars. In 2004., renovators made sure that they preserve original Art Nouveau features and embellish interior with modern amenities. There are 208 rooms in total and guests can choose between various room categories like Superior room, Deluxe room, Junior deluxe suite and most luxurious of all, Esplanade suite. For those who want to energize themselves before heading to town, there is an exclusive health club where staff will help you in picking treatments suitable for your needs.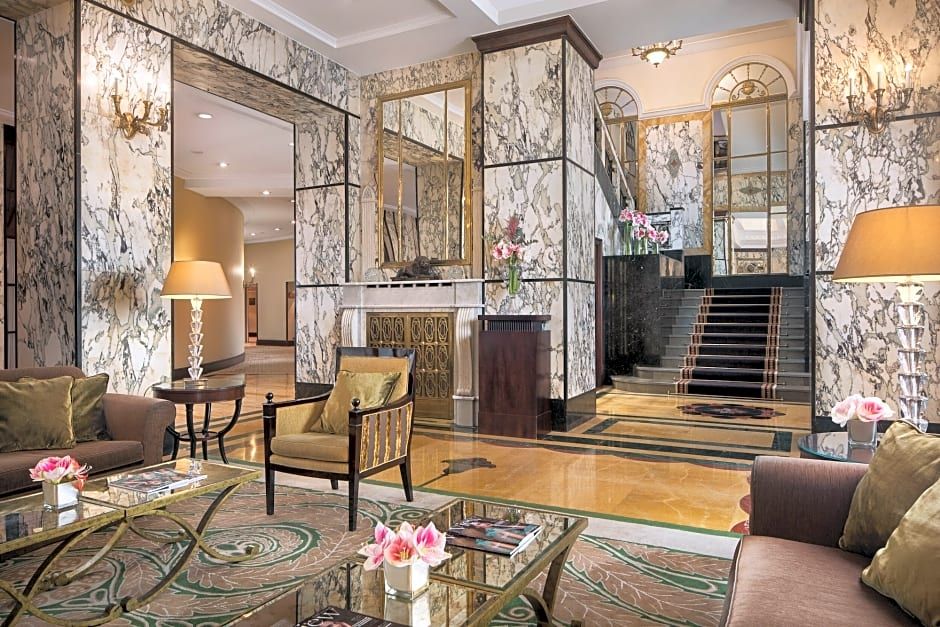 Istria:
Hotel Park
Indulged in park seclusion, Hotel Park is a place where you can regain your strength and enjoy in various services within the facility. It is a bit far away from the strict centre, but the place lacks hustle and bustle of tourist focal points. In this hotel, lovers of Istrian and international gastronomy will have a chance to try their favorite dishes and light snacks in several restaurants including Cap Aureo Signature restaurant. Also, do you know that Viva Eufemia Lobby Bar have a largest selection of champagne in Croatia. When you first come in one of hotel's 209 rooms, you will notice a travel journey and an instant photography camera where you can store your priceless vacation photos. Wellness centre included almost every possibility imaginable: From saunas and pools to gentle, caressing therapies with healing seaweed, first press of olives and herbs from local cultivation.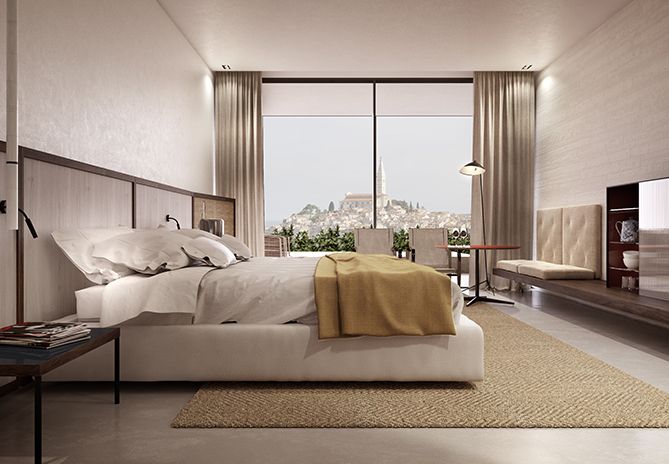 Wine hotel Meneghetti
While in Istria, you will often meet villages situated off the main roads. One of the sideways will lead you to the village of Bale. There, you will find wine hotel Meneghetti. You can choose between villas and hotel rooms. Accommodation units are a wonderful bland between traditional architecture and contemporary, stylish layouts. Residences are surrounded by gardens that feature aromatic plants: It is a wonderful feeling to wake up with nifty scents of flowers beneath your windows. Thematic hotel rooms include categories like Executive suite, vintage room and superior room. As for the food, every ingredient is locally cultivated and presented with excellent Meneghetti sparkling wine. Every dish is enriched with the best Istrian olive oil. So, while you are preparing for lunch, expect something new every time.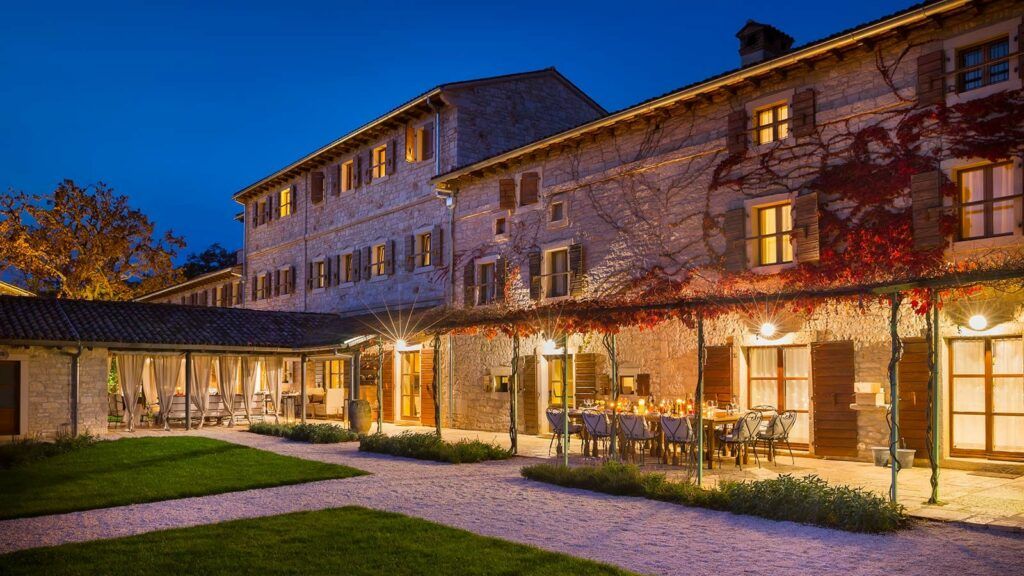 San Canzian
This hotel is one of the ways to meet local, rural architecture and to stay in one of the accommodation units designed in traditional style. When it comes to sophistication, hotel's restaurant will offer you well-known dishes and delicatessens common for Istrian grounds. The hotel is closely co-operating with local gardeners and cultivators who make sure that everything they plant come to your table. Choosing a perfect room, you can pick categories that vary between superior and executive and romantic and family. If you wish to refresh yourself with preferred beverages, come by one of the best bars in Croatia. Also, outdoor relaxation includes a pool with sauna and an unprecedented view of wild forests and hills surrounding the hotel.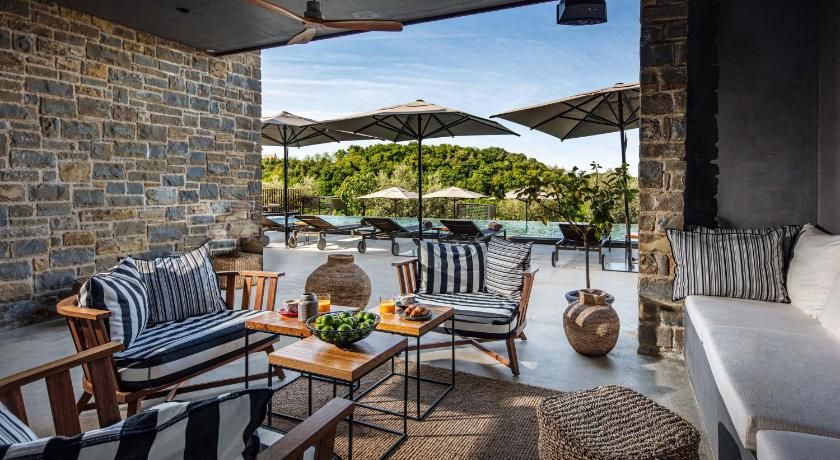 Kvarner
Hotel Ikador
The atmosphere of Ikador hotel looks timeless. Pretty much everyone who comes here feel inspired and enriched by shimmering views of Kvarner sea. Many famous people witnessed the splendour of this place including Anton Chekov, James Joyce, Isidora Duncan and Albert Einstein. While staying in rooms, you can enjoy in sea views from your private balcony. The air and weather are usually so clean you can the centre of Opatija on other side of the mainland. It is very hard to choose a perfect room for your vacation, but you can pick between Premium room, Deluxe room, Junior suite and executive suite. Famous food of Mediterranean is superbly represented in Nobilion restaurant where ingredients cultivated on local grounds make splendid dishes worthy of Hotel Ikador name. Ikador wellness centre will win your hearts with its personal approach and offer you treatments including a sound therapy and therapies with amber, gold and spring waters of Ika.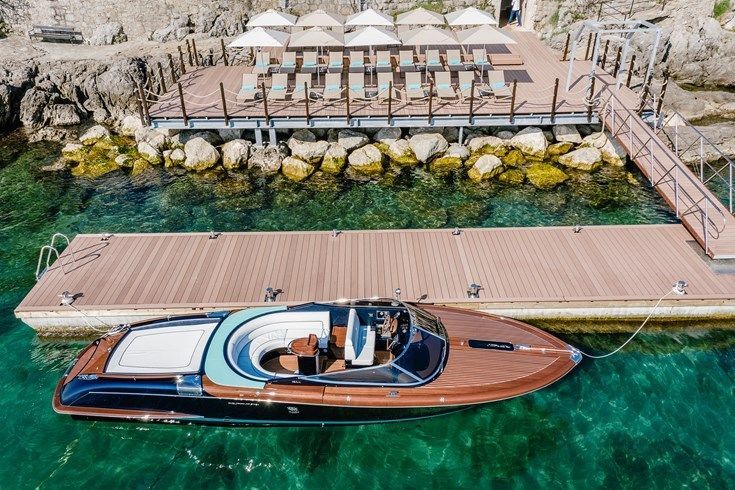 Lošinj
Hotel Alhambra and Villa Augusta
The Art Nouveau architecture wonderfully blends the scent of pines surrounding the hotel. The contemporary design is enriched by discreet luxury and every visitor can fill their lungs with impeccably designed park situated by the hotel building. When it comes to food pleasures, lovers of gastro art will love the fact that the world-class Alfred Keller restaurant is featured in renowned Gault Millau guide. Every guest can have an agreement with a chef and choose seasonal and local ingredients. Every room is designed very carefully and guests can pick several categories including Augusta grand suite, luxury suite, Augusta suite, Alhambra suite and Čikat suite and many other types.
Brač
Lemongarden
While staying at Lemongarden hotel, you will certainly feel that the fresh sea air is detoxicating you. What's even more important, you will be surrounded by mellow scents of flowers like bougainvillea, roses and hibiscuses. You can either pick one of 23 suites or you can or 12 rooms. Everytime you feel hungry, head to hotel's restaurant and choose dishes made from locally cultivated ingredients that were planted beneath warm sun of Brač. Also, wine stellar is well-stocked and you can expect more than a few surprises on the wine list. Wellness is focused on various face and body treatments. If you want to improve something on your body, just let your body to the hands of the hotel's professionals.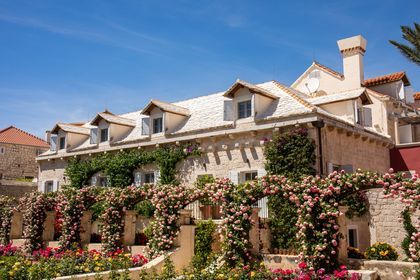 Hvar
Maslina resort
Designers of Maslina wanted to fuse the architectural style of the resort with the surrounding nature. The result is a combination of classical Mediterranean design with the couple of French touches. Guests can choose between several types of accommodations: Bay Room, Panoramic Room and Premium bay, Garden Suite, Pool Suite family suite and villas like villa Borovina, villa Litica and villa Uvala. Definitely consider booking a villa because of available amenities like gym, spa and jacuzzi. The food in the resort is a story for itself because, according to the chefs, their goal is to present simple food, but rich in the taste and to make traditional recipes with modern, sophisticated touch. To meet some hip, interesting tourists, head to resort's club and beach bar and start some spontaneous conversations after ordering your favourite cocktail.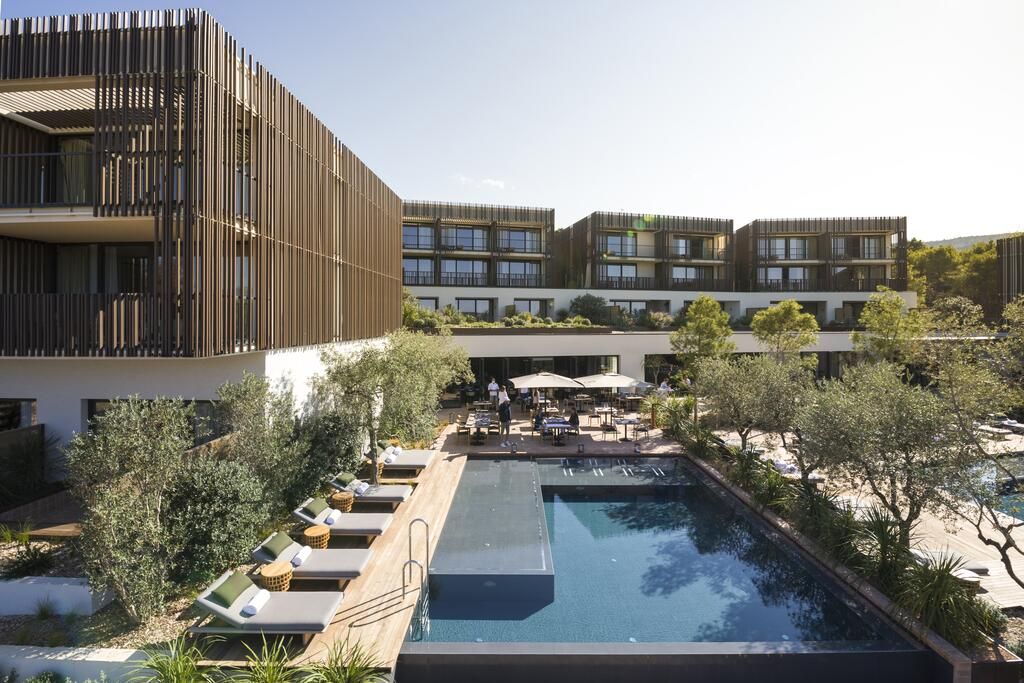 Palace Elisabeth
Just a couple of steps away from the very centre of Hvar town, Palace Elizabeth found its place by the sea. It has an impressive design that shows both traditional and present-day features. It really captures a true spirit and definition of Hvar's heritage. There are just a couple of room types and you can choose between Park Room, Deluxe city room and Deluxe suite with a city view. To have a calm lunch/dinner with unspoiled sea view, go to San Marco restaurant and try the best from Mediterranean.
Korčula
Tara's lodge
This boutique hotel is located just a couple of minutes from the centre of Korčula town. You will be situated very near the shore and if you want to have a bath, just walk couple of metres to a scenic pebble beach. When your bathing session is over, head to Mimi's bistro, bar and beach lounge and let the sun rays touch you on your shoulders while having a light snack or sipping cocktails. Every room is graced with views of the sea and the garden, choose between Standard, Executive and superior categories. Inquire the stuff about available activities and have a go with snorkelling, kayaking, windsurfing and kiteboarding.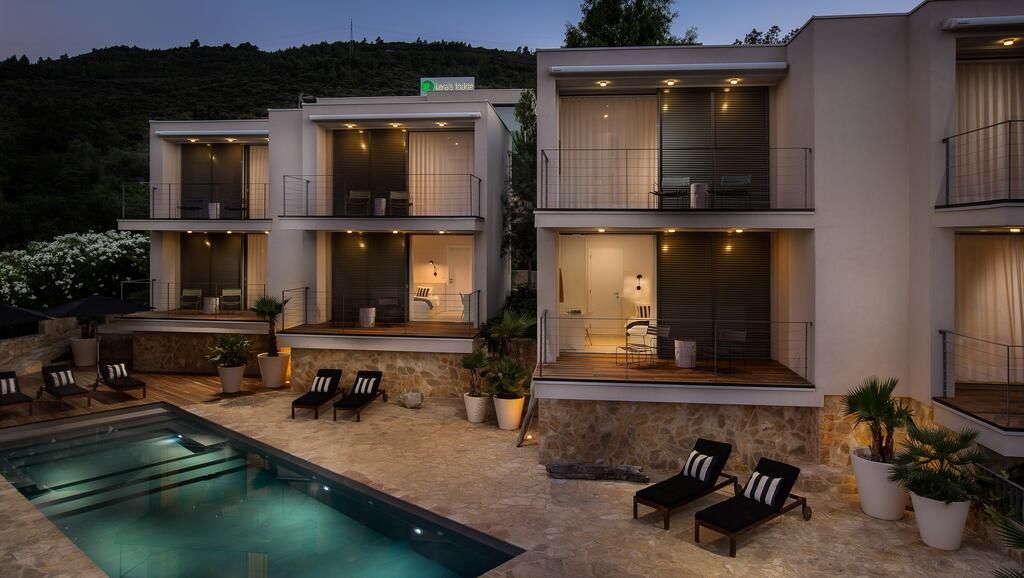 Dimitri Lesic
With just five gracious and refined rooms, Dimitri Lesic is truly representing a merge between historic culture of Korčula and modern world full of everyday changes. Each of the apartment has its own entrance, guests have their privacy to reconnect with inner selves. Guests can use services of Dimitri Lesic spa where professionals will comfort you with traditional methods from Ayurveda and Thai philosophy that were developed along the silk road where Marco Polo had his journeys. Don't forget to pay a visit to hotel's celebrated restaurant that was even awarded with one Michelin Star. It is a festivity of rich, complex flavors and seasonal ingredients that wonderfully coalesce with local wines.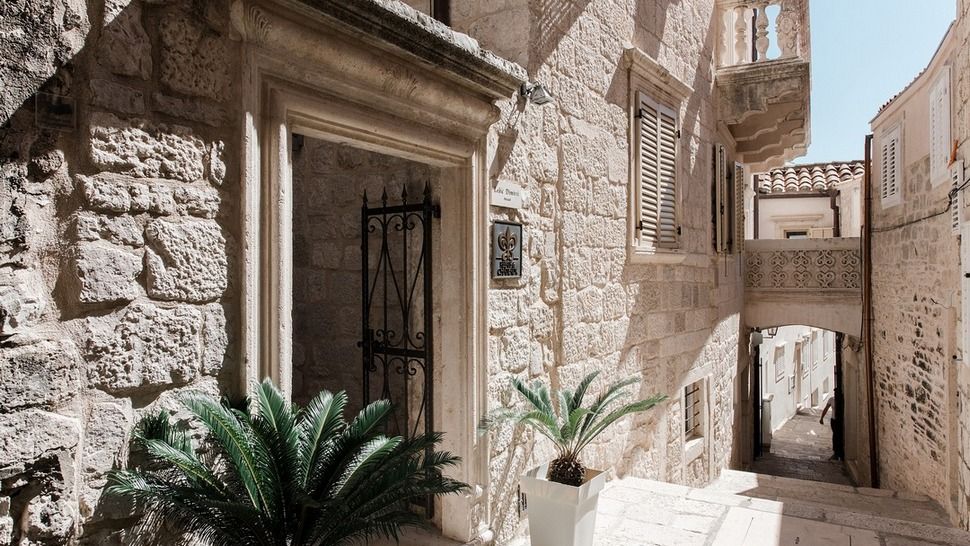 Dubrovnik
Villa Dubrovnik
One of the most luxurious hotels in Dubrovnik, a real hedonistic retreat for those coming to see Dubrovnik's famous gems. An exterior of the hotel is a gorgeous contrast to the nearby white rocks and glistening blue sea just a few metres beneath it. There are 56 rooms with modern furnishing and with some furtive additional details like wood. Categories differentiate and you can choose between Excecutive rooms, deluxe rooms, premium rooms and superior rooms. Within the hotel, there are two gastronomic options, each with their own distinctive features that make Villa Dubrovnik's food the best in this region: Restaurant Pjerin and Al Fresco Bar Giardino Culinary adventure is guaranteed. To taste the best wines of the region, go Prosciutto and wine bar, order a glass of your favourite beverage and enjoy in dance of gentle sea waves by you.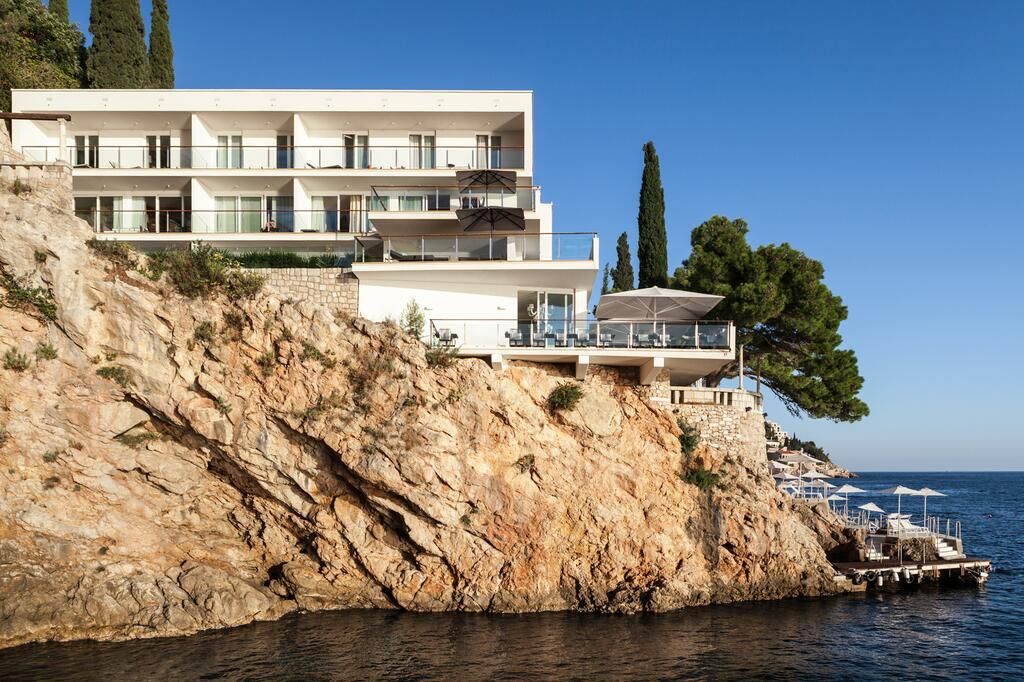 Pucić Palace
This charming 17th century baroque building is situated on Gundulić square. In this building, one of the most momentous hotels of Dubrovnik found its place: Pucić Palac. There are 17 luxurious, very upscaled rooms and two suites are dedicated to guests who are seeking more intimate experiences. The staff is always on your disposal and is ready to answer your questions regarding city tours and hotel's accommodation. The hotel's restaurant La Capella is known for serving dishes with national and international epithets. Guests can have their delicious meals on the open-air terrace surrounded by jasmine trees and citrus flowers.