First time Croatian visitors are often attracted by shimmering, pristine sea that shines from the touristic commercials. There are many choices, from extraordinary National Parks to calming rivers and lakes that are calling tourists to enjoy in their freshness. But, when it comes to choosing between Zadar and Split, you have to weigh all the notable sites that these two cities offer. Your vacation clock is ticking and you have to decide. Of course, you can visit both Zadar and Split if you have plenty of time for sightseeing. We will mention some of the finest attractions in the both cities so you can choose what to visit first. Vacation planning can be stressful sometimes, but we are here to take that stress away from you. This itinerary is a selection of top highlights from Balkan countries and it is a real deal if you want to visit coastal towns and heavenly islands.
We must mention that Split is probably more famous than Zadar, but that does not mean it is better. It represents the focal point of social, cultural and political events. Also, Diocletian palace is probably the most famous cultural attraction of the south Adriatic and Croatia in general. Also, there is a variety of small, but luxury boutique hotels and we are sure that at least one will fulfill your vacation expectations.
Zadar is often overshadowed by the tourists who are flocking in Split in the summertime. But, that doesn't mean that the town lacks equally attractive monuments. Heritage of Byzantine and Roman empires are visible on every step. Many tourists come for the sound of the unprecedented Sea Organ and stay because of numerous outstanding churches on Zadar peninsula that managed to survived all this years. For those who want to combine sightseeing activities with fun in the summer sun, beaches in Zadar are considered to be one of the most exquisite in this part of Adriatic especially if you can make it on the boat for the day and you visit amazing Kornati National Park. So, think about that while choosing you next travel destination.
Zadar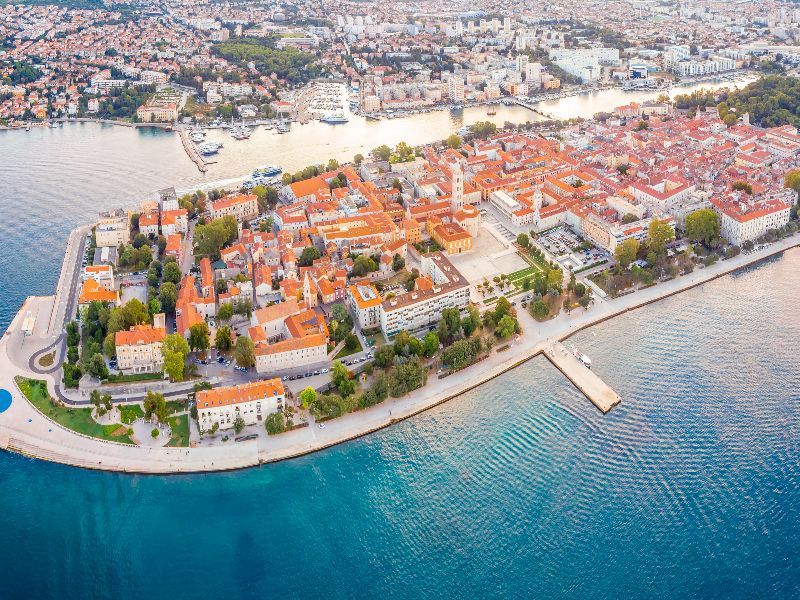 The town is considered to be the oldest continuously inhabited city. First settlements date from the 9th century BC. Its history was mostly marked by the Roman governing that was present from the 1st century BC until the fall of the Western Roman Empire in the 5th century AD. Many today's architectural sites stayed shaped and preserved almost like the Roman Empire was present 100 or 200 years ago. Because the fortification walls remained so powerful and mighty in its layout, they deserved its place on the renowned UNESCO World Heritage Site list. We will mention some of the most notable sites and historic monuments you should definitely visit if you ever come close to Zadar.
1. The Sea Organ: As the waves are approaching Zadar's coast, the air that is generated is pushing dozens of underwater pipes. The results are sublime instrumental sea shanties that vary depending on the wind and power of the waves.
2. Greeting to the sun: Creation of the same artist who made The Sea Organ. Make sure you visit it during sunsets to see how the colors are interchanging vividly on its display
3. Anastasia's cathedral: Arguably the most magnificent church monument in Zadar. Tourists are praising its appearance from outside and inside because of the stunning view on the bell tower.
4. Church of St. Donat: Another iconic site in Zadar that you probably know from many postcards and adverts. The origins of the building are dating from the 9th century.
5. Roman Forum: Located just by the Donat Church, Forum was the focal point of social gatherings in the ancient times. There was a big earthquake in 6th century and nearby buildings were destroyed. To reconstruct the damaged sites, stones from the forum were used for rebuilding.
6. Narodni Trg (the people's square): More contemporary gathering point for Zadar citizens. Narodni Trg is a favorite place of the locals for sipping coffee and mingling. As for the tourists, they usually gather here to drink their favorite drinks and watch the daily lives of people passing by.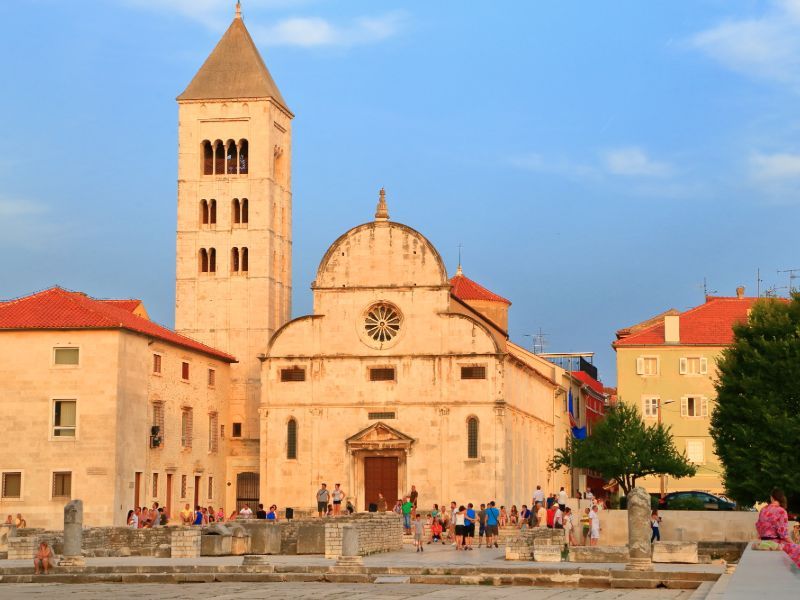 7. Museum of Ancient glass: You can see development of the glass from ancient era to more modern times. Also, you will see many demonstrations of glass making craft to see delicacy of the whole procedure.
8. Museum of illusions: If you want to spend an afternoon with your kids doing something unusual, bring them to the Museum of Illusions and test your perceptive abilities while looking at the exhibits.
While looking at the surrounding locations, there are many places to go on a stupendous day trip. We will give you top three spots you should definitely visit while residing in Zadar.
Paklenica National Park: Enjoy the hiking while you go between fragrant, lush trees and watch the walloping mountains that are opening in front of you. Walk the marked paths long enough and you will eventually end up on the highest peak of the park : Vaganski Vrh.
Kornati National Park: National park that is characterized by numerous little islands, pristine, crystal clear water and endless potential for swimming and snorkeling. You simply have to see it to believe it. The islands are uninhabited and there are no traces of human interventions, but that's what makes it so unique. Enter the complex of the islands with your boat and a guide. You will feel like you are in a sea labyrinth surrounded by barren, craggy rocks and small monticules that jut from the center of the islets.
Krka National Park: One of the most notable National parks in Croatia. It is the place where you can observe outstanding waterfalls and nature in its best, blooming editions. If you want to educate yourself about the local region, visit its ethnographic village and see how our ancestors lived couple of centuries ago. Bike enthusiast will have a lovely time because of the bike tour organization.
In the paragraphs above, we mentioned reasons why visit Zadar. But, there are certain arguments that could turn you off from visiting this town.
1. If your sole purpose of visiting Adriatic coast is searching for Game of Thrones locations, maybe Split is a better choice for you.
2. Maybe you spent too much time visiting Dubrovnik so you decide to see Zadar on some other occasion
3. Many restaurants in Zadar are serving seafood. It's not such a good thing if you have allergies on certain sea food allergies.
4. If you are repealed by sunshine and seascapes.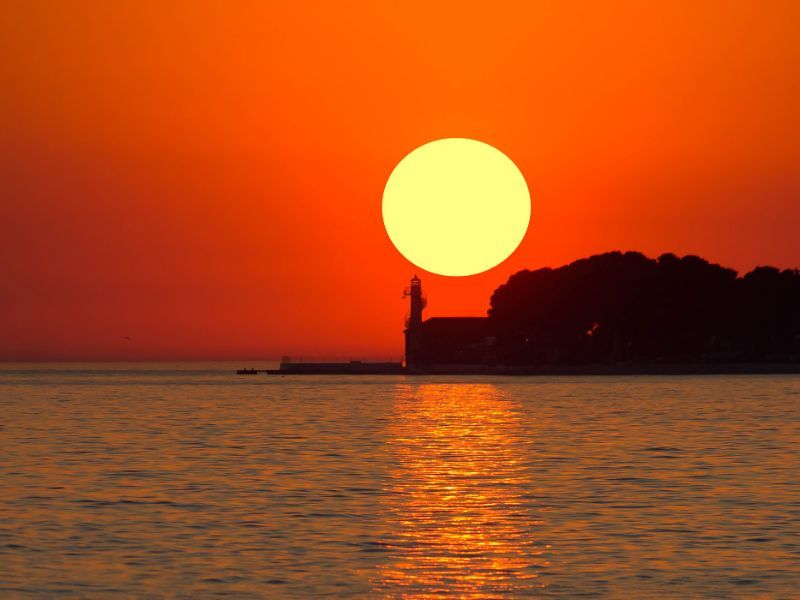 Split: As we have already mentioned, Split is the biggest and the most important cultural, political and social center on Adriatic Coast. It is home to around 200. 000 people. Even more tourists are gathering here every year to witness unprecedented ancient appeal and to enjoy contemporary features like bars, clubs and restaurants. It seems like almost all life is revolving around the presence of the Diocletian's Palace. It is truly heart and soul of the city. If you don't visit it, it is like you were never in Split at all.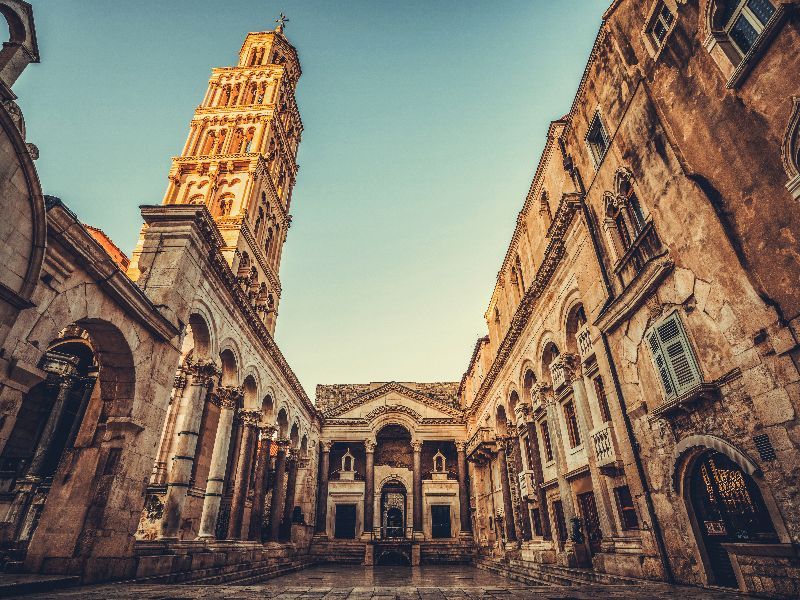 Once upon a time, around a 2nd or 3rd century AD, Split was just a tiny Greek colony. But, some 305 years AD, it started to gain recognition after Roman Emperor Diocletian chose Split as his retirement location. A massive building was erected for this purpose. Since the majority of the sites remained preserved to this day, many tourists are roaming its halls to see why it is called one of the best preserved monuments of the Roman architecture in the world. Even some people are living inside the palace these days and you can even rent a room in one of the hotels. To show you the wider picture of Split, we will mention some of the highlight locations in the paragraphs below.
Diocletian's Palace: As we mentioned before, the visiting of Diocletian's Palace can be quite a spectacle. It contains several points of interest including Roman Forum called Peristil, vast networks of cellars, four massive gates, numerous little churches and ancient pillars that are standing as a symbol of Roman power back in the day.
Medieval Old Town: Although there is not many historic sites in Split besides Diocletian's Palace, some fragments of the old town from Medieval Ages survive. The part of the notable sites is certainly the church of St. Domnius which is one of the oldest Catholic cathedrals in the world. Tourists can see it in its original shape because there were not so many changes during the time. Today, people often choose to go in the direction of the old town because of the numerous bars, restaurant and cafes that are situated there. Also, it can be fun to explore endless mazes of little, crooked streets that extend from the strict center.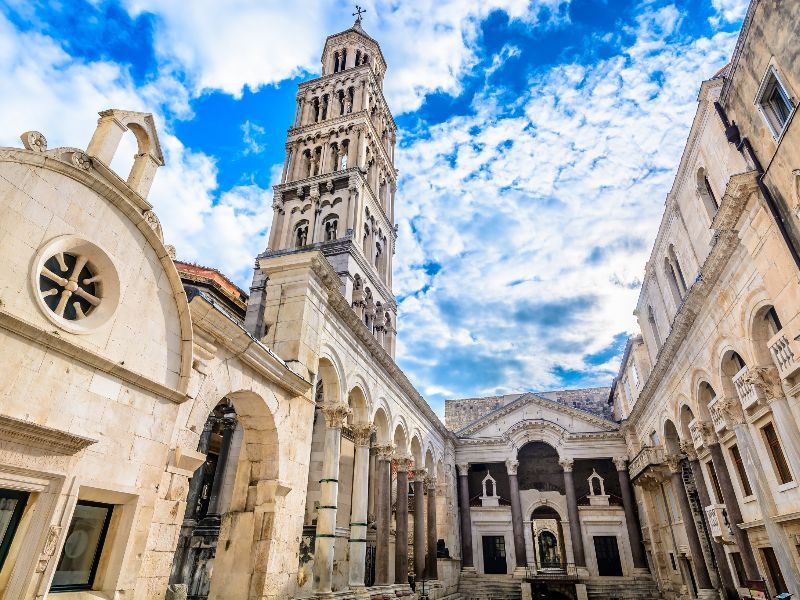 Game of Thrones filming locations: Are you a Game of Thrones fan? If you are, you probably discovered that some of the scenes were filmed within the ancient walls of Diocletian's palace. To give you a thorough insight of the location's intrigues, special tours are organized around notable points of interest. Go on a tour even if you didn't watch the show before, maybe you will be converted into a hardcore fan!
Riva: The place to see and to be seen in Split. Locals are walking back and forth in the morning/afternoon hours to see their friends or maybe some local celebrities minding their own business. Of course, the part of the experience is to drink a cup of coffee in one of the terraced cafes. If you are just passing by and don't want to spend a lot of money, walk by the shore to inhale salty, fragrant scent of the sea that is foaming just before you.
Ivan Meštrović Gallery: The Croats are very proud of the work by Ivan Meštrović so they decided to open a gallery that praises his work. Both the villa and the exhibition inside are showcased for visitors. Although the building never became a permanent residence for the master and his family, he personally supervised the building process. The exhibition houses more notable works of Meštrović from the period between 1916. and 1946.
Archeological Museum of Split: Every country has its share of archeological findings and Croatia is no exception. Spend some time to see objects from Greek, Roman, medieval and early Christian times. But, the vast majority of the exhibits date from the period of the Greek colonization of Adriatic. It is the oldest museum in Croatia as it was founded in 1820. If you like to observe ancient collections of medieval coins, the museum has over 70.000 pieces on the display!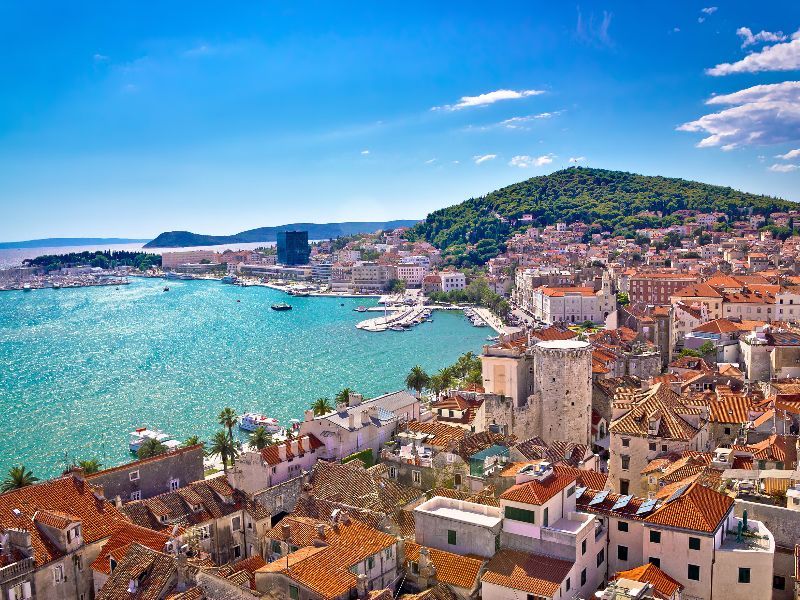 Day trips from Split.
Hvar: You can reach the island of Hvar by a boat or a catamaran. Hvar is known for its delicious wine, rich history and cultural heritage and exquisite cuisine. You will probably spend most of the day in the town of Hvar mingling around the largest square in Dalmatia, visiting one of the oldest theaters in Europe or just observing sacral architecture in the church of St. Stephen. Monasteries and churches are in majority on the island of Hvar and to visit them all, you will need at least two or three weeks. But, for daily trip, visit above-mentioned locations and maybe add Španjola fortress and Franciscan monastery which is along the sea. For those who want to go beyond the main town, have a bath by the Dubovica beach some 25-30 kilometers on the southeast or visit a small village Sveta Nedjelja at the bottom of St. Nicholas mountain.
Trogir: The so-called "town museum", Trogir offers splendid photo opportunities on every step because of its extraordinary architecture, historic legacy and pleasant atmosphere. It is even protected by UNESCO. Locals are proud of the buildings from the old town's core and many tourists are taking day trips from Split to see the Cathedral of St. Lawrence, the Kamerlengo Tower and St. Mark's tower. Don't forget to come across relief of Kairos. One certain legend is connected to it and it says that whoever manages to grab its curl, will have lucky moments of eternal beauty.
Mostar: The city is the most famous for its bridge that is connecting two parts of the city. It was destroyed in 1993. By Bosnian Croat forces. But, it reopened 11 years ago and today is a symbol of co-existence of various cultures and ethnicities in the same area. Come here to try some of the famous čevapi (meat fingers)! Also, the region where Mostar is situated is known for its quality wines (žilovka and blatina) so make sure you try some of it while eating specialties like Begova čorba, Bosnian pot for your main dish or baklava for dessert.
Reasons not to visit Split:
1. Maybe if you don't like larger coastal towns with sites overcrowded by noisy tourists.
2. Summertime city heath and lack of places that are in shades.
3. You prefer places that are more party/clubbing oriented and with less emphasis on cultural tourism
4. You seek a place where nice beaches can be found
With all being said, it is fairly difficult to choose between 2 places. There are so many positive aspects that it is almost impossible to think about negative sides. Maybe there won't be enough time to visit every site and every attraction, but at least you will be eternally blessed by the spirits of Croatian wonders. We wish you plenty of pleasurable sightseeing and if you need help planning a Croatian trip click here to customize your experiences with our local travel experts.