Here are the reasons why visit Istria. Experience the region of hundreds exciting locations and diverse tastes of local food and wine. There are plenty of attractive locations to discover, dig in and enjoy our recommendations
There are so many reasons to visit Istria that the whole region is functioning like a state of its own. It is visited by people who like to tour the hills, enjoy the captivating seaside rivieras and overall, fulfill their hedonistic purpose in life. There are many reasons to be pleasured, from exquisite wine to healing olive oil that can be found in many villages. You don't need a big plan for visiting Istria, you just need to be present and the blissful energy of the countryside will take care of you. Our itinerary page has a special offer for those who are planning a honeymoon vacation and the mentioned sites include Istria. Check it out!
Picturesque hillside towns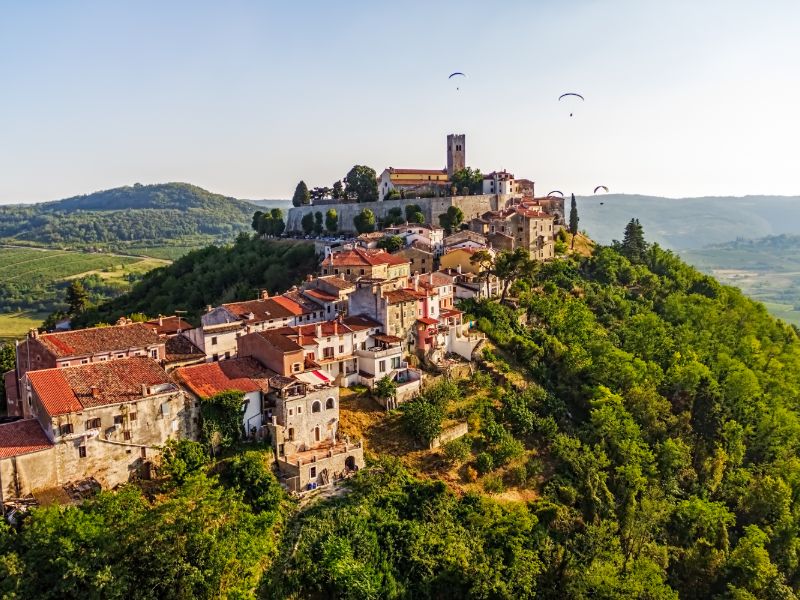 It is quite an accomplishment if you are going hiking on Istria County and you reach hillside towns after a long ascend. The sights of meadows and fertile green fields from are an eye candy for everyone who likes pristine nature. Also, the town centers are full of traditional architecture and streets that conceal pretty little secrets like autochthonous shops, tiny, lovely restaurants with indigenous cuisine that is made with compassion and meticulousness and locals that are in good mood. You are probably ready for trying of truffles. But, we will tell you little later about them. For know, we will count some of the towns you should visit while in Istria.
The village of Oprtalj is maybe something you are looking for in Istria. Its design and outline makes the village one of the most picturesque towns in Istria. From the very entrance of the town, you will catch a sight of Venetian loggia with a stone monuments. If you want to catch a glimpse of the marvelous Adriatic Sea, go on the top of the fortification to see a horizon which opening in font of you. This area is specific for its truffles (every October there is Tuberfest which is a festival dedicated to truffles) and it is convenient location for a weekend trip with your bike.
Motovun: One of the most notable little towns of Istria. Known for its traditional architecture, historic monuments and pleasant atmosphere, this is a must see town for all those who are visiting Istria. Many historic buildings managed to survive the harsh times of past and tourists can enjoy the sights of Romanesque municipal palace and parish church from the 17th century. The town also holds cultural significance. At the end of every July, Motovun film festival is held there. If you are fan of Formula 1, you might be interested in fact that the 1978 world champion Mario Andretti was born here in 1940. The town is also notable for its educational character, because every year, the international school of health and international school of architecture is held here. Two reasons more to visit the place if you have educational needs.
Grožnjan: If there is a town that it is giving its soul to art, it is Grožnjan. The whole town is like a painting itself but when the May comes, it spreads all its vibrant colors to the full potential. That potential is reached via artistic workshops and events that are waking up the spirits of the locals and tourists in spring months. The whole village is one of the reasons why visit Istria someday. The events and workshops are held under the supervision of famous artists and experts from the world of music, art and drama.
Momjan: Known for its cultivation of grapes and wine processing, Momjan immediately upon seeing establishes a character. Although very small, it contains numerous historic buildings and monuments including a twelfth century castle, various churches that remained preserved for seeing and historic center with numerous old fashioned houses scattered around.
Coastline towns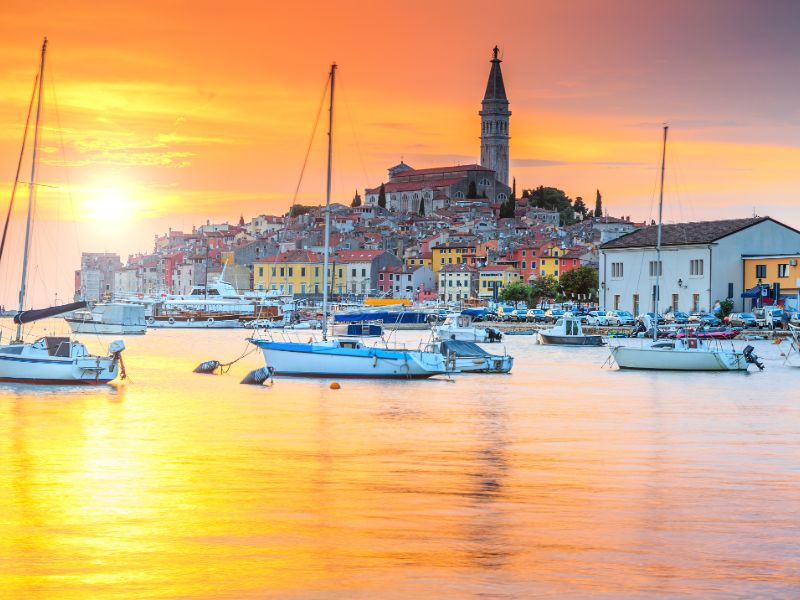 Coastline towns are one of the reasons why visit Istria. There are also many little towns along the coast which are worth a visit. All of them are graced by traditional architecture, significant historic monuments and a positive vibe of the locals. Since the preservation of buildings and facilities is strong, you will probably want to get lost in narrow cobblestone streets and end up in an old church or monastery. Many of the towns lack the contemporary features, but that doesn't mean you will feel blessed while you are sightseeing their magnificent contents. After all, there will always be some secluded little coffee shop where you can observe the surroundings from the terrace and contemplate the experience. Poreč and Rovinj are notable as towns with the most dense historic infrastructure in Istria. Their characteristics most notably include developed hospitality facilities like bars and restaurants with, of course, significant monuments from the past which are praised every year by thousands of tourists.
Local dishes
Every region of Croatia known for its local specialties. Our ancestors were very happy to cook for us in the past when the ingredients were modest but the will to make some delicious food was genuine. The region of Istria is no exception and the traditional recipes are glorified in local restaurants and treated with care. Try some delicious pasta called "Fuži" or find a place that serve truffels in small doses.. The tourists can try a vast variety of specialties that Istria is jealously protecting as the region's treasure. These delicatessens include Wild asparagus, Istrian pršut, scallops, mussels, oysters, boškarin (the meat of the Istrian Ox), Posutice (cut pasta), Ravioli and Macaroni. Also, try famous Maneštra which is thick boiled soup made of various vegetables. For a high class cuisine, consider reserving a table in a Monte restaurant, Rovinj, which was awarded a prestigious Michelin star. Other restaurants in Istria with a Michelin recognition include restaurant Badi in Istria, Marina in Novigrad and Sv. Nikola in Poreč.
Easy to go off the beaten path.
The majority of Istria is crowded with tourists, especially at the peak of the season. Locals are mostly satisfied with the situation because the restaurant business is blooming. But, the chaos is sometimes overwhelming and tourists are trying to find their way to escape the hubbub and to find more secluded place. While the towns of Poreč, Rovinj and Pula are almost always packed up, there are plenty of villages on the south of the country that are mostly undiscovered. Little villages and towns like Pazin, Kanfanar and Žminj can be equally seductive and attractive. So, if you are having vacation in Istria, have a little journey on the sideways, you never know what you are going to encounter.
Pula and Roman Ruins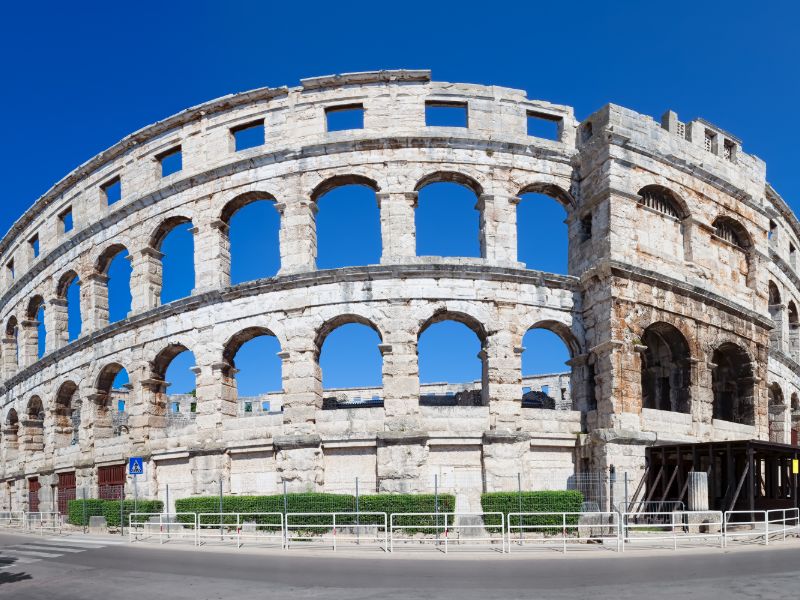 This wonderful Istrian city is the biggest place in the region and a wonderful reminiscence to the old ancient times. Known for its monuments, especially the sublime Pula arena, the city holds a significant legacy and it is one of the most important historic cities in Croatia. Center of the city is filled with preserved Roman legacy and the surroundings of Pula are a paradise for nature lovers. Every corner of the city is filled with historic contents so you will probably want to spend your whole vacation there to learn all the back stories and facts about buildings and monuments. It is great to be around Pula in the summertime so check out the music and movie scene around July and August.
Rovinj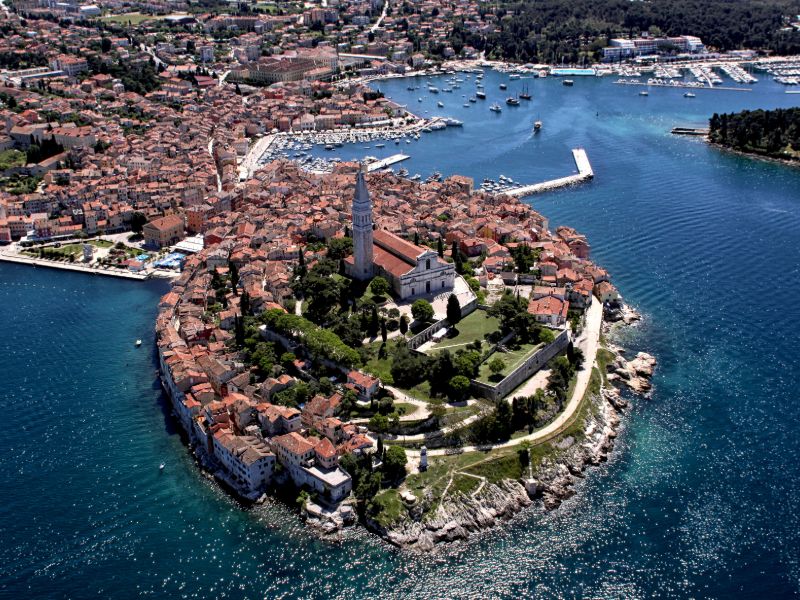 Rovinj is one of the Istria's town attractions. It is a little seaside town that spreads its small community appeal to tourists and to those who are just passing by the town. In both cases people are enjoying traditional Mediterranean architecture, aromatic scent of the sea and tiny cobblestone streets that are interconnected by steep slopes and uphills. Rovinj is widely considered to be a pleasurable town which has a charm of an old Italian place in Tuscany. But the prices are much more affordable and there is a bigger chance that you will find a place in a café or a restaurant. Contemporary features are not so in focus, but if you are staying day for a vacation, most of the time you will find a place to have a coffee or a lunch.
Poreč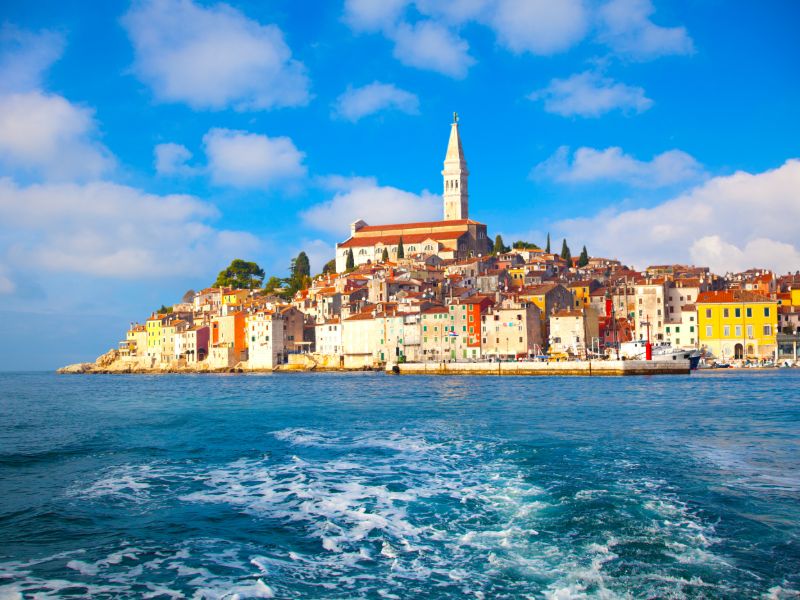 The town that has a soul and heart. Thousands of tourists who visit this significant town on the Istrian coast can say that Poreč left quite an impression to them. People are massively visiting basilica of Eufrazije and are staying because of the numerous other contents like cafes, bars and restaurants. Gothic and renaissance features of the buildings are enchanting tourists, just like every other significant place on Adriatic. But, because the locals developed their facilities so well for the mass tourism, people are coming back every summer to indulge in hedonism and gastronomy.
Mixture of Venetian and Croatian culture
Since the Italy is so close to Istria, it would be impossible that the Italians didn't influence Croats with its architecture and mentality. Also, the influence can be seen through language and food. Since Istria was once before the part of the Italy, many locals talk in Italian language or with a dialect that is a combination of Italian and Croatian (Fiuman dialect). Food that is based on pasta varieties is a direct influence of Italian cuisine. The architecture in most prominent Istrian towns is heavy influenced by Venetian – based buildings. Everywhere you look, you will see signs on both Croatian and Italian. Overall, it is the region that is a little Italy in some ways, but with its unique settings and features that cannot be repeated anywhere else.
Great accomodation
We mentioned before that Istra has some great sights that can entertain everyone. But, one of the main ingredients for a complete experience is a suitable accommodation. But, we have to emphasize Hotel Monte Mulini in Rovinj. It is one of the best hotels in Croatia and a definite reason why visit Istria. The guests are treated with impeccable service and its accommodation offers much needed leisure, pleasure and dozen reasons for relaxation and rejuvenation. You can indulge in Spa treatments or lounge on the wonderful beach which is just few steps from the hotel. Other hotel worth mentioning is hotel Adriatic which is also in Rovinj. The look of the hotel resembles a practical combination of old, traditional Rovinj lifestyle and contemporary features like modern art which is inspired by hotel's hundred year old heritage. Need a reason why visit Istria? Start by booking some of the elegant hotels.
Go on different adventure each day
Adventure seekers and wanderlusts are probably dreaming about wide open spaces and unexpected terrains with unpredictable twists and turns. Local roads of Istria are made for tourists that have adrenaline in their blood. Since most of the roads are situated on hills and verve around unforeseen areas, you will steadily progress into the more rural areas of Istria. Summers can be quite harsh in the region so if you are going with a bike, bring a lot of water and a sun cap. As for the adrenaline, Istria offers variety of the adrenaline parks in which you can pump your heartbeat and sprung your muscles. Places like Medulin Park, Jangooloz park and Glavani Park are giving chance to their visitors to try activities like artificial rock climbing, zip lining and walking on high points with suspension. One of the super activities in the hot summertime is splashing in pools and going fast on water slides. So, if you are ready for some water fun, visit water parks of Istralandia and Aquacolors.
Istrian Wine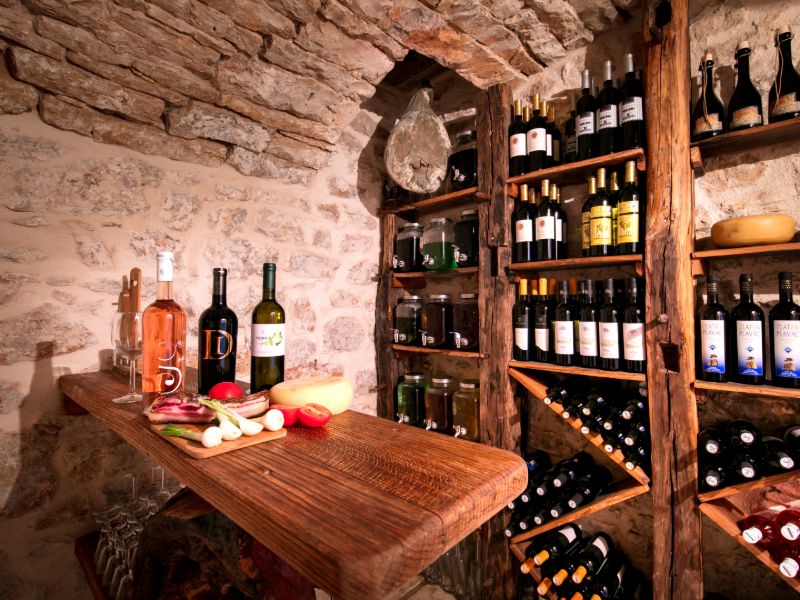 Many of the tourists who get to know the Istrian culinary also want to know more about their famous wine. Wine is sometimes a guilty pleasure and a reason why visit Istria. Its dried wine proved to be successful on domestic and international markets. Hence, the most famous wine in Croatia is Istrian Malvasia and you can also enjoy the other sorts like Teran, Muscat, Merlot and Cabernet Souvignon. The search for the perfect wine or the perfect winery can lead you through many of the colorful hills and picturesque meadows. Ultimately, it is the search for perfect style of rural life, far away from the hustle and bustle of urban surroundings. Enjoy your stay on the countryside and make sure that you find your perfect bottle of wine to take home.
Olive oil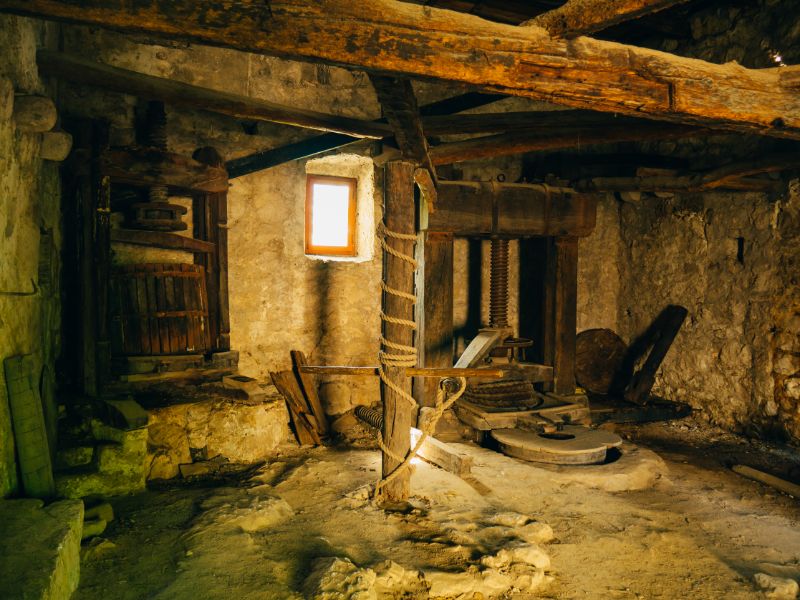 Since Roman times, Istria's exquisite olive oil is one of the highlights of the whole region. Many wanderlusts who travel above and beyond Istria praise the olive oil like it is liquid gold. Actually, it is. In the history, Istria's olive oil has been much overlooked by juries and commissions. But in later years, thanks to the much needed exposure, our olive oil gained recognition it deserves. In Istria, there are many olive oil tasting ground and specialized houses. So, if you go round some of the more rural parts of the region, turn around now and then to find such houses. You will never look at olive oil the same way again. One of the definite reasons why visit Istria is its famous olive oil, so don't come back home without buying some of it.
Truffles
If you want to know the real significance of truffles, you definitely need to visit Buzet. Known as "truffle capital", Buzet is most known for its truffles. For some travelers, truffles are the only reason why visit Istria. Since the whole town is dedicated to cultivating of truffles, you can visit it anytime of the year. But, our best suggestion is to visit the place in early September when the truffle festival is held. The inhabitants of Buzet are praising the birthday of Virgin Mary and the big party is guaranteed. Head towards the central square and you will see humongous pot of omelets with truffles in it. But, in the rest of the year, you can come on the first Friday or the third Thursday of the month to see local truffle products showcased.
Known among the people but still needs a wider recognition: Hum
If you try your hardest, you won't find smaller town than this in the world. The town consists of all the important features: The town loggia, houses for folk and nobles and the parish church. According to the last official enumeration, there are only 17 people living in Hum. While there, you don't have to worry that something will miss you for the short period of time. If you are lucky, you may find vacant houses to rent in one of the guest homes. Additionally, there is a wonderful local restaurant that will serve you the most delicious local food. To say goodbye to this small town, buy something from the local souvenir shop and make your visit to the smallest town in existence wholesome. There is so much to do in so little space, it's unbelievable.
Town off the beaten path: Vrsar
This historic town is a wonderful addition if you are visiting towns and little villages along the west coasts of Istria. In this town, there are numerous Roman quarries you can visit while in the same time, admire the suitably positioned archipelagos that are situated in the vicinity of the village. From the tourist point of view, there are numerous hotels and restaurant in which you can find accommodation if you are staying for longer time. The layout of the town itself is excellent for discovering if you find yourself there for the first time. So, enjoy the historic appeal while you are discovering hidden squared secluded deep in the core of the town. Very often, the outline and the exterior of towns are a good reason why visit Istria.