When asked about the most famous delicatessens and specialties in Croatia, locals always have specific opinions and arguments about the best traditional foods. To narrow the list of all the possible food varieties and combinations, we made a list of dishes and specialties common for specific regions in Croatia. But be aware, after you meet specific families from every region, you will realize that the food lists are actually endless. The regions in Croatia can be both edifying and delicious. This specially organized tour will present you the dishes and local recipes Croatia can offer. Click the link to find out what we prepared for you after reading this article!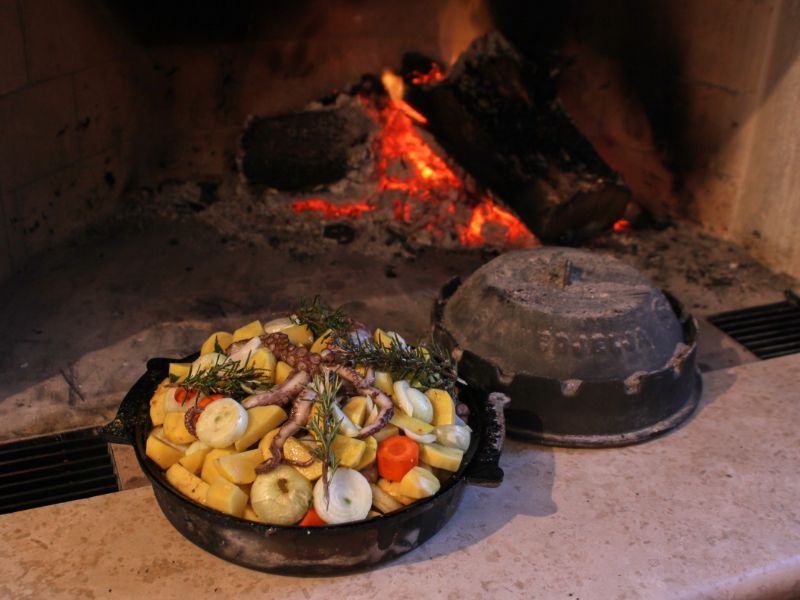 1. Slavonia.
Mikeška pašteta – A Croatian form of pate that is especially common in the territories around the town of Virovitica. It is a combination of onions, mustard, pork rinds, hard boiled eggs, salt and pepper and paprika powder. Before you serve it, you have to thoroughly mix the pate. After the main preparation phase is done, spread it on a thick slice of bread and serve it as an appetizer before a main course or an afternoon snack.
Šokačka salata – It is an old recipe for rich Slavonian salad. It represents a combination of cooked ham, peppers, tomatoes, cooked and chilled chicken breasts, pumpkin seeds, pickles, spring onions, boiled quail eggs and sunflower seeds. Ingredients are usually cut into the small cubes and then put into the mix. After that, the whole combination is dressed with red vinegar and either sunflower or pumpkin oil. It should be served in glass bowls then garnished with chopped parsley.
Kruh mast I paprika (bread, lard and paprika): During the war several decades ago, this was one of the most popular snacks. In today's times, this simple meal is popular again when it is sold in Christmas markets. It consists of thick slice bread and the top layer of pork fat, a bit of salt and ground red paprika. Because of it is prepared in a most simple way and consists of cheap ingredients, it is considered a poor man's meal. Whole generations of people were raised on it in 1990's.
2. Croatian Zagorje and Međimurje
Krpice sa zeljem (sauerkraut handkerchiefs) – Square shaped pasta mixed with fresh sauerkraut.
Kalapajsani krumpir (simmered potatoes) – Traditional Međimurje dish, potatoes simmered with onions and spiced with red paprika.
Gibanica – Cake made out of pulled dough which can be stuffed with poppy seeds, ground walnuts, cheese, apples…
Hajdina porridge – Boiled buckwheat semolina. It is served as a side dish or a singular dish.
Purica s mlincima – Turkey pieces with baked noodles. An extremely popular main course in Croatian Zagorje and Zagreb county respectively.
3. Zagreb city and Zagreb county
Zagrebački odrezak – One of the most popular Zagreb dishes. It is famous because of its combination of ingredients, textures and ways of preparation. Zagreb steak is actually fried veal steak filled with ham and melted cheese. It represents a more refined version of Wiener schnitzel. Although, it is also prepared from other meat varieties like pork, turkey and chicken
Germtajg – Yeast dough filled with additions like jams, apples, pork scratches, cheese and carob.
Filana paprika – Whole paprikas filled with ground meat and usually served with mashed potatoes
Abšmalcane mahune – boiled green beans with fried
4. Istria
Maneštra – Boiled soup made of various vegetables with an addition of cured meat.
Fuži, njoki and kljukanci – Traditional Istrian pasta varieties often served with meat gravy made of chicken, beef that's called žgvacet.
Fritaje – Egg omelets served for the whole year undependable of the season. Often made with radicchio or asparagus and usually served as a wholesome breakfast.
5. Dalmatia
Brodet – A fish stew that consists of different types of fishes such as monkfish and scorpionfish. Locals usually put some parsley, olive oil and tomato sauce to garnish their creation. Visit Neretva region so you can try a unique variety of this dish – A frog and eel brudet.
Pašticada – There are numerous different varieties of this meal. But, everyone knows that it takes several hours to prepare the beef and a couple more to cook it with dried figs and some wine. The result is a legendary dish prepared in great way and a wonderful combination of sweet, bitter and sour aromas.