Istria has so much to offer. Wherever you go, the locals will make sure to proudly present their authentic products and items. But, when you start to discover villages that are hidden by the hills and rural territories, it is time to find what makes the locals alive. Villages and settlements are sources of energy for many inhabitants. We will make sure to list some of them so you can visit them…and let others pass their energy to you. If you want to find out more about Istria and even visit nearby Italy and the south of Croatia, this itinerary will give you some useful solutions for your next journey!  
Motovun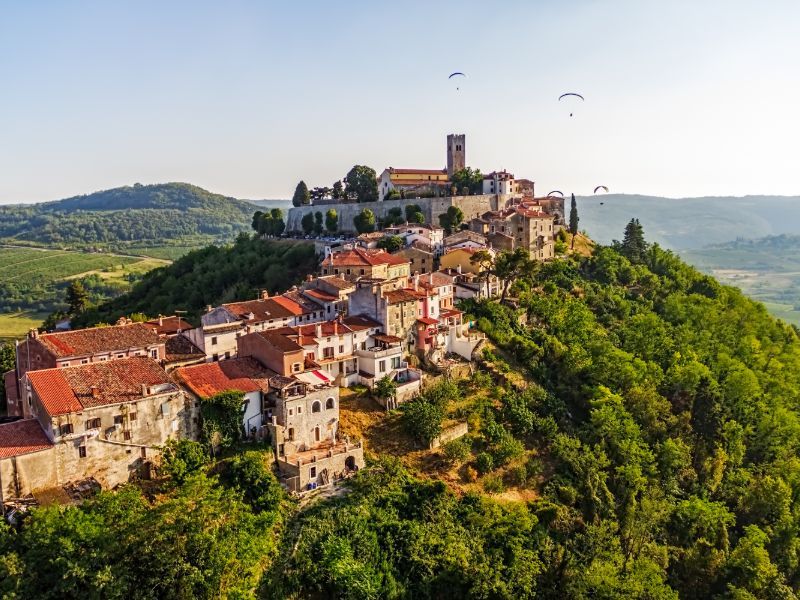 Definitely, one of the most famous little towns in Croatia. It was first mentioned in the year 804 as a town of Montouna. The town was a headquarters for some notable noble families, especially those from the pre-Venetian era. Even in these days, there are several reminders of those times including the 13th century bell-tower. Some fragments in the old town's core date from even earlier centuries. But, most of the ornaments and architectural details are from 1300's and 1400's Today, tourists from around Europe and the whole world are summoned here to see little pieces of history in forms of architectural details, church ornaments and archaic decorations. In the summertime, schools of architecture and health are organized here and also, the famous movie festival is attracting the fans of art movies.
Buje
The town of Buje is located between rivers of Mirna and Dragonja. It is one of the most attractive towns of Istrian peninsula. The locals of the town dedicated their lives to agricultural production, craftsmanship, industry, hunting and tourism. The nature surrounding the town is clear, plain and unspoiled by human hand. When you come here, you can enjoy in simplicity of local life. The old town is pretty much preserved in its essential basis and you can see pre-historic buildings that are a witness of the town's population in Bronze Age. By the roads of Buje, you can find and buy the finest of Istrian wines and olive oils.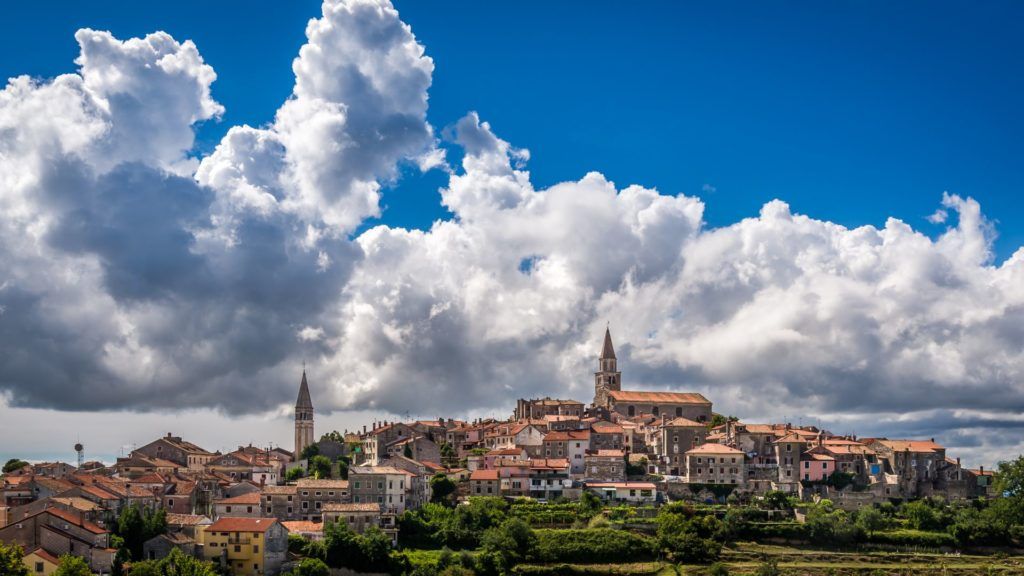 Bale
The county of Bale is considered to be one of the most preserved and untouched territories of the Istrian region. Around the settlements and towns, the nature is in full power and you can enjoy in pristine flora and fauna that is blooming uninterruptedly. The places within the country have a rich cultural and architectural heritage. Bale is a complex that includes offsprings of nature, fertile, arable grounds, pastures and forests. There you can see fragmented remain of old buildings, roman roads, roman wells, churches and other content. On the southernmost part of Bale, 45th parallel is passing: That's a halfway between the equator and North Pole.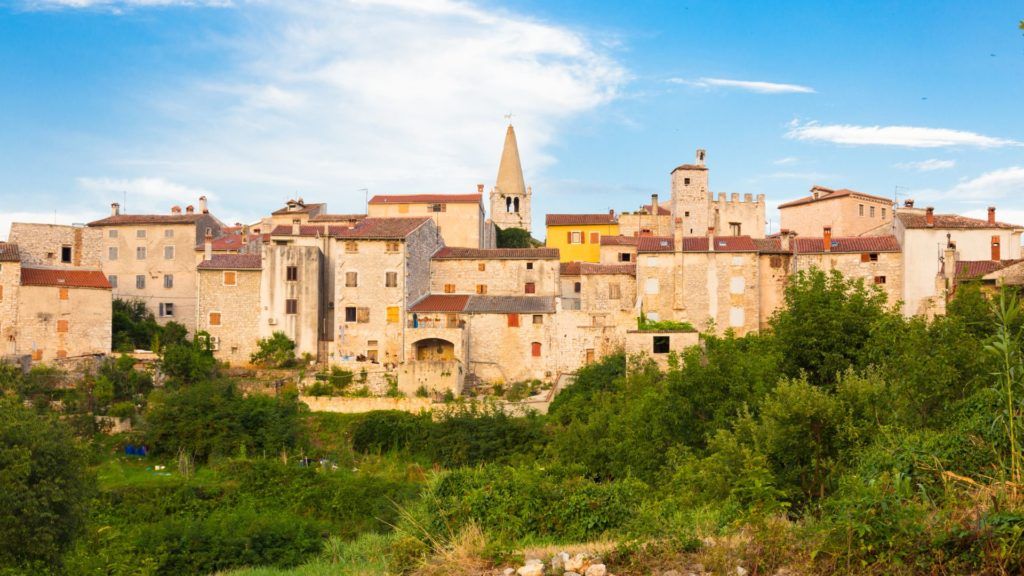 Vodnjan
The rich history of Vodnjan is wholesomely manifested even today and visitors can indulge in observing of drywall architectural techniques within the town. People that were living in Vodnjan in the past made a living from agriculture, olive and grape cultivation. It was a basis of earning. Vodnjan was first mentioned in 932. In those times, Istrian towns were giving amphorae of good wines to the doge Pietro Candinao in exchange for personal safety. Today, urban extension of the towns coalesces harmonically with the buildings of historic importance. People can enjoy in modern amenities while cherishing old monuments and the ornaments of yore like the Palace of the Bettica counts, decorations made out of wrought steel on the wells to wooden carved doors of several, important palaces. Many buildings were built in gothic-venetian, renaissance and baroque style so keep an eye for common characteristics on the facades.
Vrsar
Vrsar is another picturesque town situated in the heart of Istria. It consists of narrow, crooked streets that are zigzagging through town and lead to tiny squares, stone houses and charming churches. By the shore, there is one of the most astonishing archipelagos on Adriatic. It consists of 18 uninhabited islands that are surrounded by divine blue sea. The town itself was known for its sources of drinkable water for centuries. That's how it received its primeval name Ursaria (old Mediterranean word "ur" or "spring"). The territory around Vrsar, especially the Lim fjord, is known for cultivation of vine, oysters and olives. The touristic importance is tremendous and Vrsar was voted many times as a best touristic destination on Adriatic.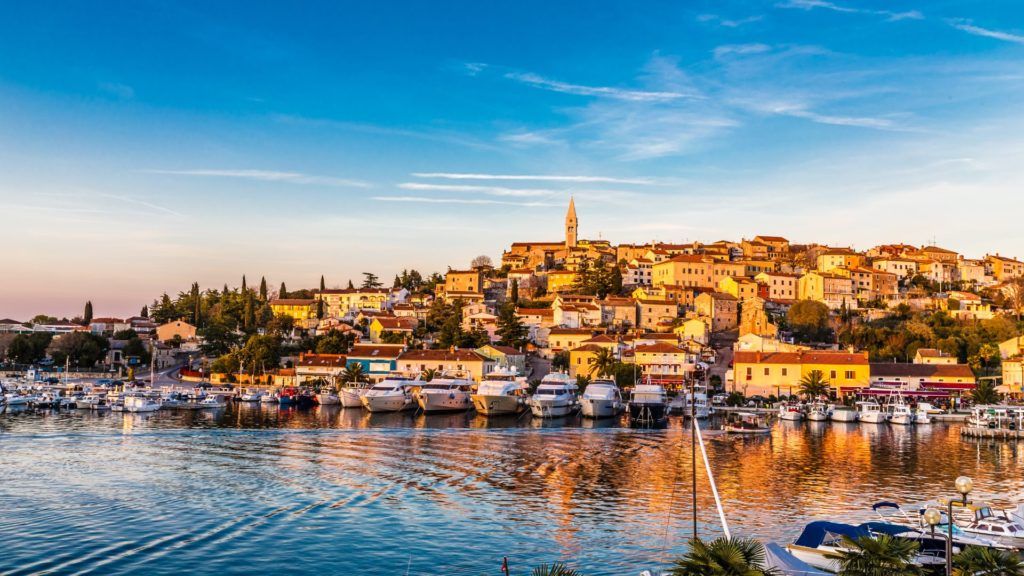 Grožnjan
A town of ultimate serenity and artistic vibe. People who come here can take pleasure in great wines and olive oils that are cultivated around the hills where the town of Grožnjan is situated. From the vantage points around the town, you can see magnificent views of the nearby settlements, Mirna valley and even the sea that stretches from Novigrad to Umag. To see the real, vibrant atmosphere of Grožnjan, visit the place in May. This is part of year when the town becomes a stage for numerous actors, musicians, painters and art lovers in general. The artistic blooming started in 1965 when the abandoned houses were settled by artists from around the world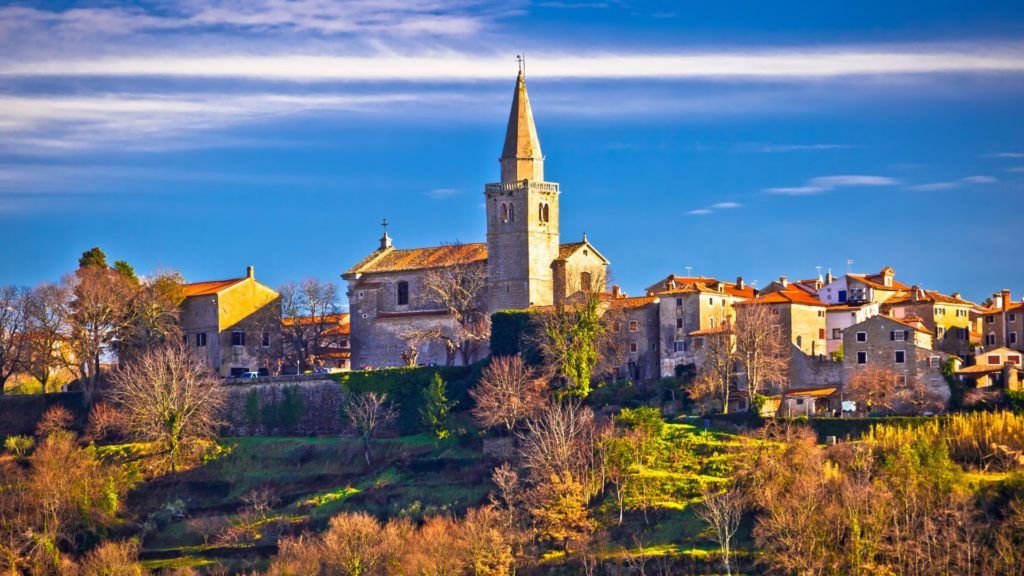 Hum
The best for the last. The town of Hum is certainly not a humdrum experience. Considered by many as the smallest town in the world, people are visiting it to see charming old houses, fairytale-ish ambience and old monuments that will tell you their origin stories. It was built in 11th century on the foundations of an old fortress. It is believed that Histri, the Illyrian tribe, built Hum as a refuge place to protect themselves from thieves. During history, many attacks were aimed towards Hum. But today, it is a real monument of history and has a great cultural significance