Every country has its own significant treasure in terms of cultural protected monuments. Serbia also has a few sites that are so remarkable that they were included in UNESCO world heritage sites. Although some of them are bitten by the tooth of time, remaining fragments are telling spiritual stories about religious and social customs that are long gone. So, if you are coming to Serbia, consider checking out one of those locations and see how the ancient legacy is still very strong and present. Cultural heritage is something to be proud of, and Serbia made sure it is cherishing these locations with dignity and style. If you are ready to plan the trip, customize it here.
Studenica monastery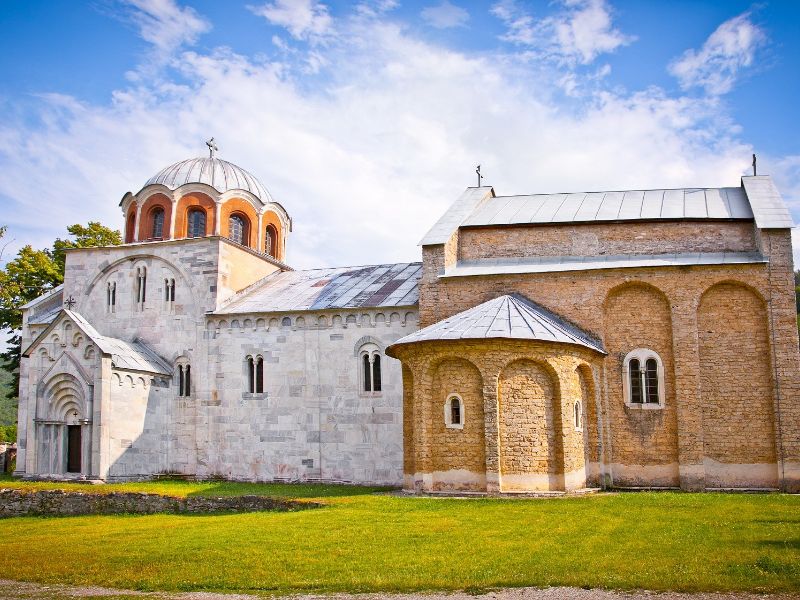 This simple, yet pleasant site was founded almost 1000 years ago by Stefan Nemanja, a man who founded the state of Serbia in the middle ages. It is the grandest of all Orthodox monasteries in the country. The monastery is so significant in Serbian circles that people call it the mother church of all Serbian shrines. Located at the confluence of Studenica and Ibar rivers, it can be reached if you find a 12 kilometer road which begins in the small village of Ušće. Since middle Ages were harsh and every church or castle was a point of interest to the eager conquerors, Studenica monastery was fortified to defend itself from attacks. The whole site consists of two churches: The Church of the King and the Church of the Virgin. White marble was used in constructing them. In present times, churches showcase valuable collections of Byzantine art which dates from the 1200's and 1300's. It is interesting that one of the first hospitals was erected in medieval times at this location.
Medieval Tombstone graveyards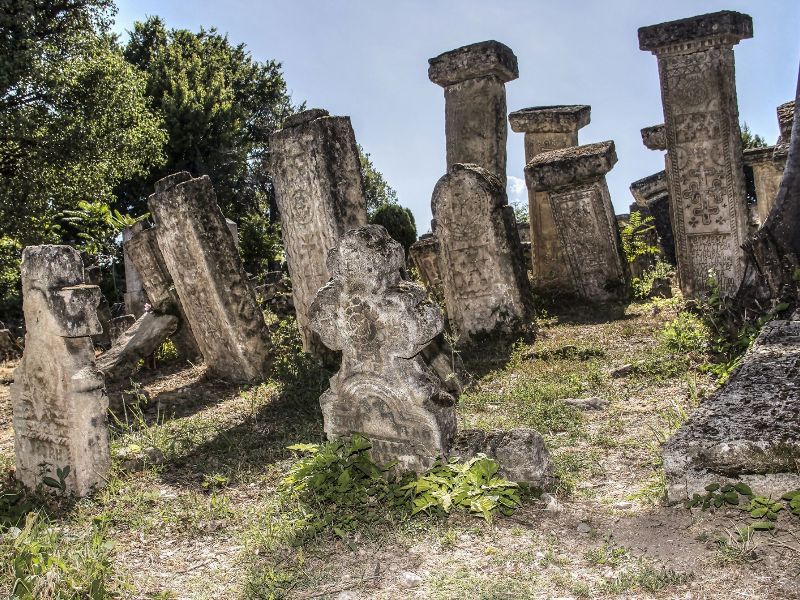 Serbia has 3 stećci graveyards that are included in the UNESCO world heritage list out of 28 in the Balkans region. To see them all, you will have to visit Hrta, Rastište and Perućac. All of them carry one particular characteristic in comparison to other ancient graveyards that can be found in Europe: Three Medieval Christian faiths use stećci in these regions. That includes The Church of Bosnia (which no longer exists), Orthodox Church and the Catholic Church. Today, Stećci are worth seeing because of the preserved messages that are left unscathed as tombstone notches. That includes epitaphs, motifs and reliefs. So, if you ever find yourself in one of the abovementioned regions, hit the countryside to see these remarkable pieces of history and bring a local guide to translate the tombstone messages for you. Among the readable messages, there are also numerous Christian symbols carved in its surface. If you look closely, you will recognize hunting and dancing scenes that were part of social and entertainment life back in the day.
Gamzigrad Romuliana: Palace of Galerius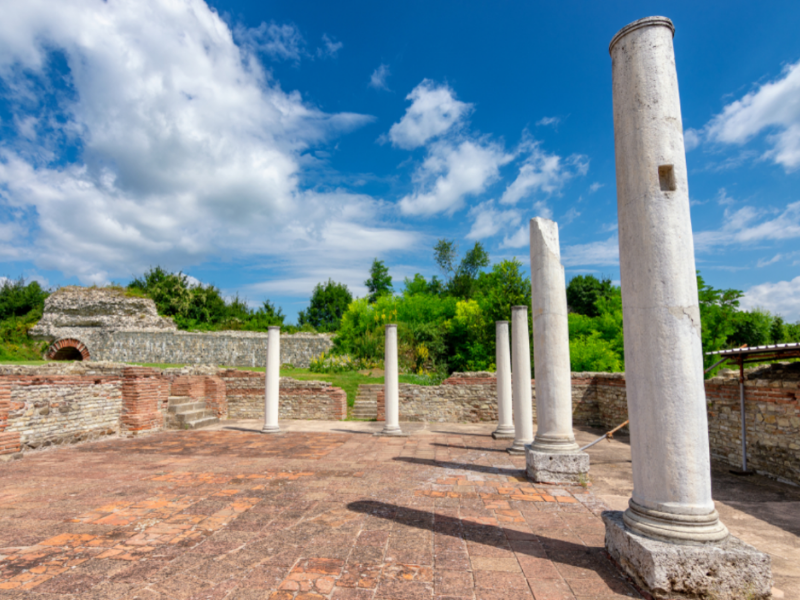 Deep down by the Danube River, there is one of the least known complexes in the Balkan country sides. Gamzigrad is one of the most important sites from the late Roman period. Its origins can be traced to late 3rd to early 4th centuries. Originally, it was built for Roman Emperor Galerius Maximianus who was notorious for his persecution of Christians. Although today's archeological site is modest in its appearance, columns from that period survived and are faithful representation of times when Maximianus was an emperor. In emperor's times, the complex was called Felix Romuliana as it was named after the queen mother of Maximianus. The vast complex consisted of buildings intended for various purposes. Complex visitors could wash themselves in the bathtub rooms and enjoy solemnizations and festivities in ceremonial rooms. Complex also had a tetrapylons and fortifications on the strategic angles. It is worth mentioning that the complex is a part of Roman Emperor's route. Birthplaces of Roman emperors are connected by one singular rout which merges all of them in the territory of modern Serbia.
Old Ras and Sopoćani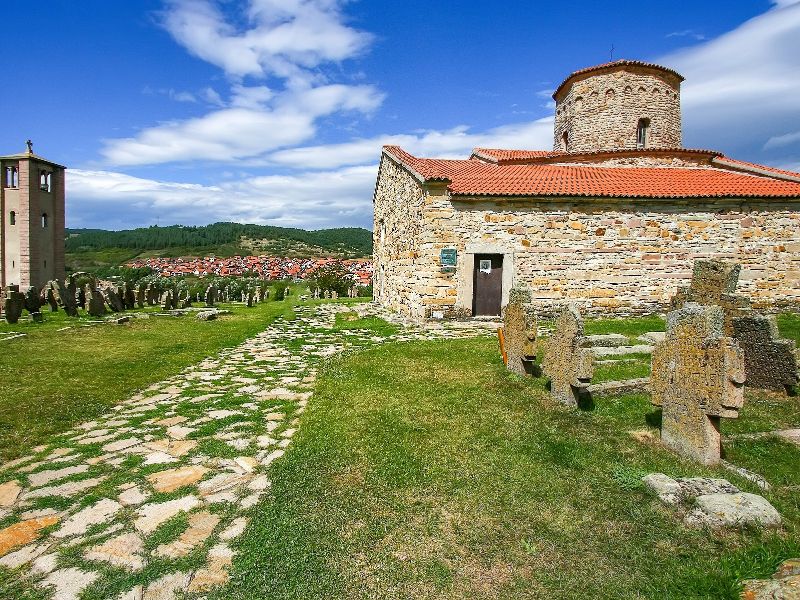 All UNESCO world heritage sites in Serbia have one thing in common: They are all human made structures with belonging back stories and eventful histories. Old Ras and Sopoćani complex is a series of buildings that were notable in its times for their religious and social content and today are significant because they represent a noteworthy ancient site worth observing and analyzing. Old ras was a first capital of Serbia and its location was a considered a crossroad between Western and Byzantine worlds. It was founded between 8th and 10th century, but people deserted the whole territory in 13th century so they can search for more convenient location. The times were harsh to Old Ras and not much was left from the old site. You can see the outlines of the city walls, the lower town of Trgovište and the hilltop fortress of Gradina. But, Byzantine frescos that can be found inside the ruins remained relatively intact. Frescos are considered one of the finest pieces of that type or ornamentation in the history of Serbia and Byzantine Empire. It is interesting that all of them were done by the artists who were not welcomed in Byzantine Empire but they were welcomed by the King of Serbia and continued to give their artistic services for the Kingdom.