Museums and historical venues are the essential part of every metropolis. Along with that, every city has to have a proper destination where you can drink a fine coffee, eat some succulent bagels and indulge in chit chat with your friends in impeccably designed interior- it is just the way of life in Croatia and we would say part of our culture. Well, since Zagreb is in question, it is really not that hard to find locations to indulge in local life. We are bringing some recommendations so you can decide if you like savory treats, salty pastries or just want to spend few hours with the fine cup of coffee and watch people passing by. It is worth mentioning, coffee shops in Zagreb are prime target for people who want a photo of their coffee for Instagram profile – not a bad way to do Instagram check-in. To cherish the local culture and praise the whole Zagreb city during your vacation, we recommend you to check our itinerary page.
Johann Franck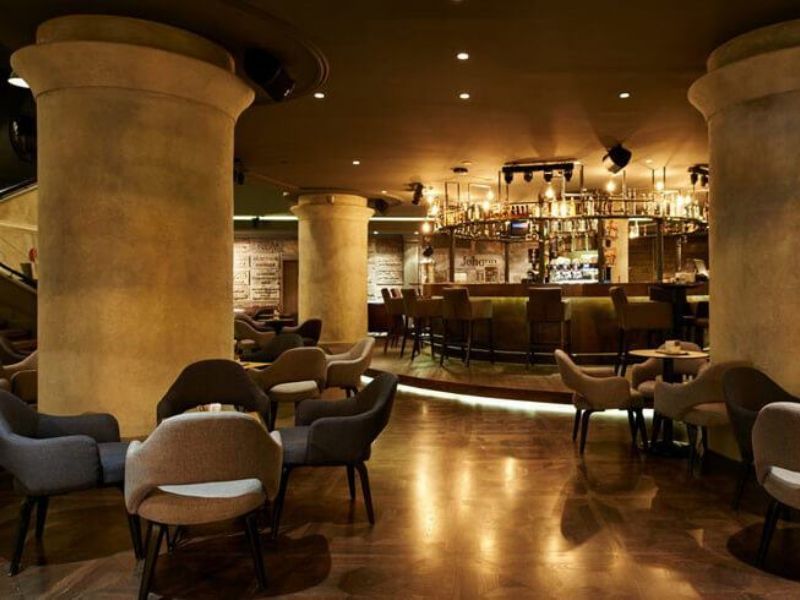 Located in Ban Jelačić square. Johann Franck is an elegant place; a café, bistro and a lounge bar all in one. It offers a remedy for tourists who wish to relax by the main square with delicious dishes made from fresh ingredients from local Dolac market. It is also one of the oldest coffee shops in the Zagreb. Franck coffee is considered to be one of the best ones in the country and it is made with a delicate procedure according to the traditional recipes. When the night comes, the place becomes live with energy and spirits of young people. DJ will play some of the best tunes and rhythms and the dance floor will be on fire with excited dancers. While checking the local nightclub scene, consider visiting Johann Franck for some great fun in late hours!
Mala Kavana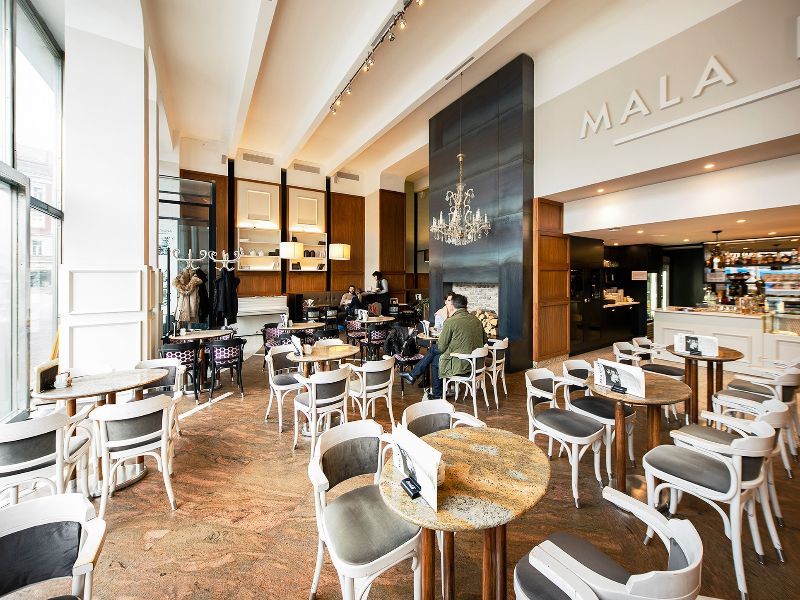 Another venue that is situated on Ban Jelačić square. If you are admirer of places that are reminiscence of the old times, you should definitely pay a visit to Mala Kavana at least once. The interior is designed in a way that coffee shops used to look like in the beginning of the 20th century. Designers were paying attention on every single detail – the main highlights are cozy armchairs, wooden surfaces, big mirror which covers one of the coffee shop walls and a glass wall that is specially opened during the warmer part of the year. As for the menu, Mala Kavana is a place where you can have delicious coffee, tasty sandwiches and yummy cakes. If you come with your friends in the evening hours, try some of the cocktails from the list and watch the action on Ban Jelačić square from the coffee shop window.
Café bar Finjak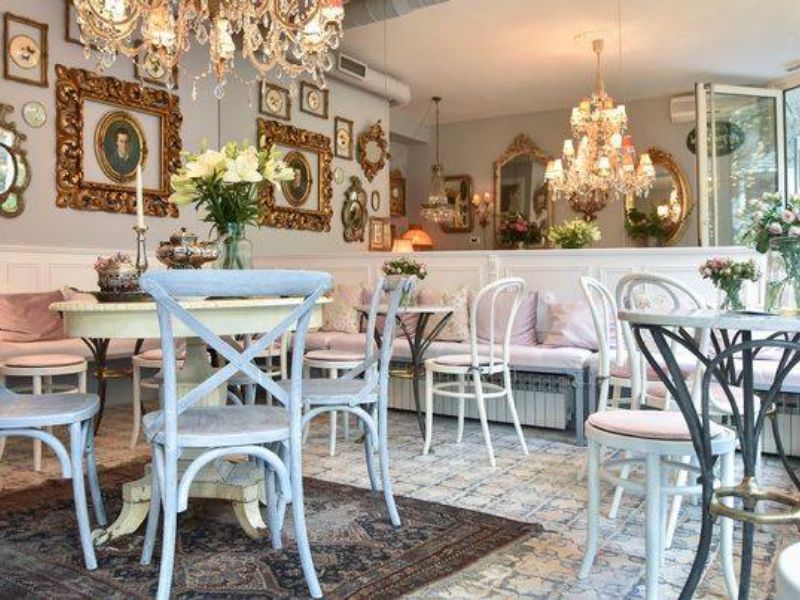 The famous British news magazine The Guardian proclaimed this cute little place the prettiest venue in Europe. Soon after that, coffee lovers started flocking the place in search for the best possible Instagram photo. The interior shows the classic charm of Zagreb city. To represent the old values of Zagreb in the best possible way, coffee bar terrace was enriched with original chairs that were a part of the famous Zagreb hotel Esplanade in the past. The offer of drinks is equally impressive as you can enjoy the coffee that is brewed from the mixture that is prepared by Nik Orosi, Croatian and European champion in bar management. Overall, you don't need to select huge amounts of money to treat yourself in style. Sometimes, you just need to visit places like Finjak and see that basic luxury is priceless.
Melt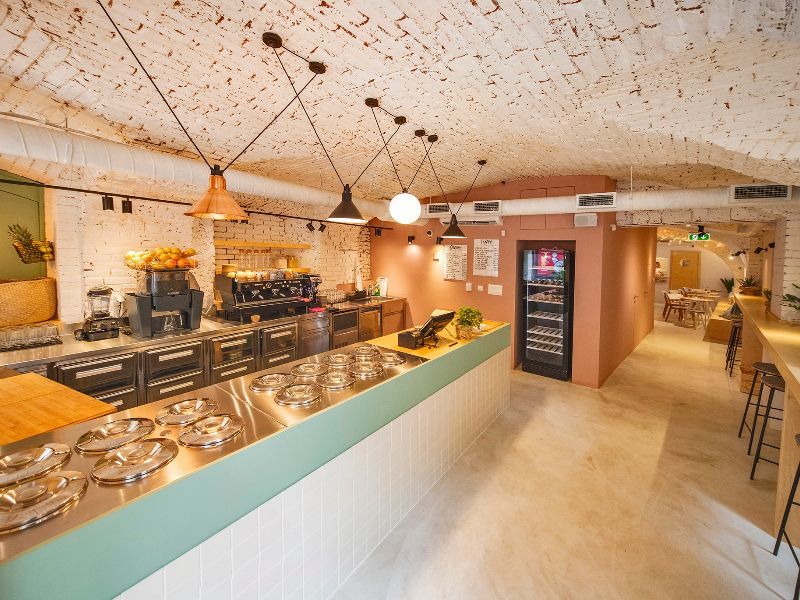 This place is specialized in serving gluten free dishes and savory ice cream varieties. Visitors can treat themselves with brunch and vegan snacks that are very nicely defined and presented by two lady owners: Lucija and Lucia. Both girls were living abroad for some time and wanted to open the first brunch restaurant after they returned to Zagreb. Prices had to be moderate, food had to have a good quality and every meal had to be gluten free for a better digestion. But, the primary goal was to include healthy and fresh ingredients in the general offer. Two owners are recommending various dishes that include Acai bowl, granola bowl and smoothie bowl. Along with special gluten free bread, specialty of this restaurant is gelato. The owners are praising it by saying that the gelato is completely natural and additive free. To wet your throat during your lunch/brunch, lovely menu of coffees, smoothies and cocktails is available. All that and even more waits for you in this stylishly furnished interior of Melt restaurant. Healthy never looked so prettier before.
Kavkaz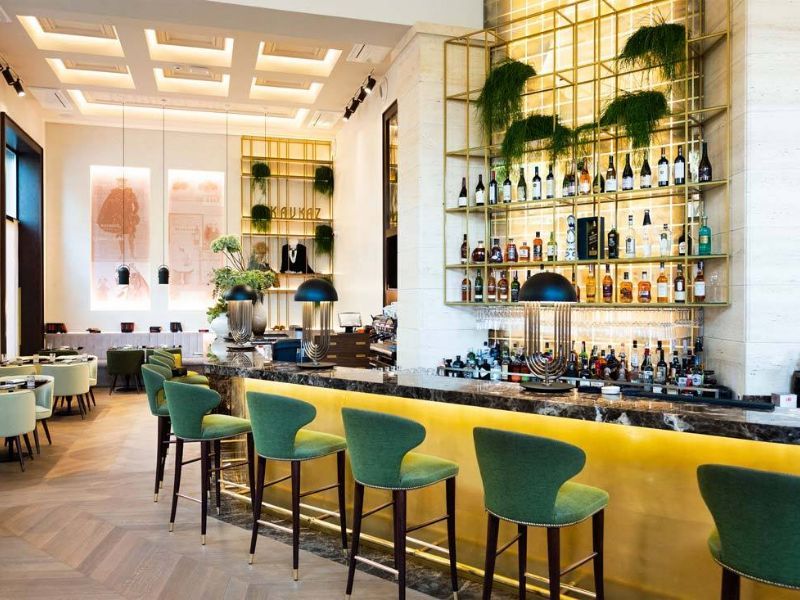 Kavkaz is considered some kind of Zagreb institution. Since the HNK (The Croatian national theater) is very near, many actors, artists and viewers were visiting Kavkaz in the past. During the last couple of years, the bar was refurbished and became a bistro where you can sip coffee, drink cocktails and grab a quick lunch. The new look of the bistro was made according to the old plans so the place can receive its traditional layout while being enhanced with some contemporary features. The result is a modern facility with vintage looking segments and details like a marble bar and attractive lighting from above. Along with sandwich snacks for breakfast, ask your waiter to give you a menu of daily offers. Lovely interior and polite staff will surely make you come again, maybe even after a concert in the nearby HNK.
Magnolia Slastice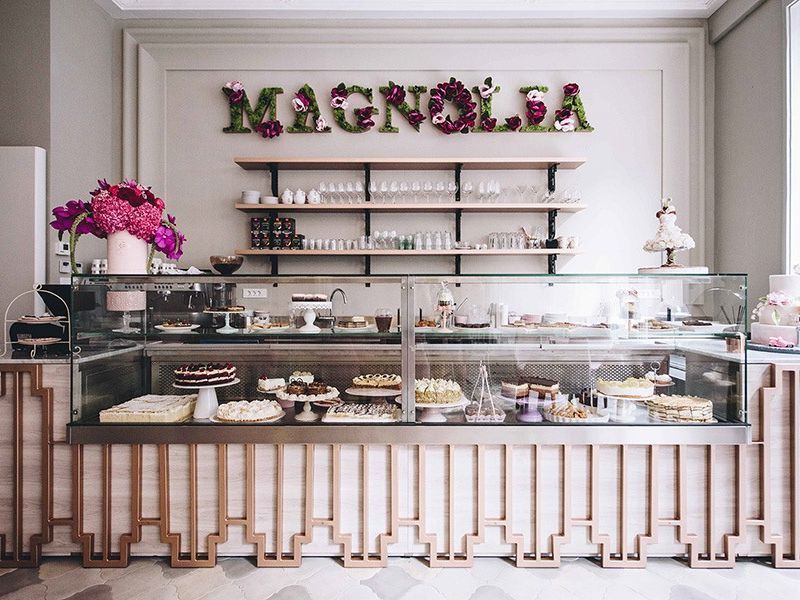 Magnolia cake shop opened facilities on three locations so far. In the very entrance of the cake shop, you will notice a vast space that is extending from the floor to the top. Elegantly furnished and designed space is enough to make you feel like you entered some well –reputed Parisian cake shop. But, since the Zagreb is in question, the provoked feeling is even better. The offer of the cakes is standing out in comparison to other similar cake shops as you can treat yourself with green tea cake, praline cake with brittles, Medovik cake or Split/Russian cake.
Program Bar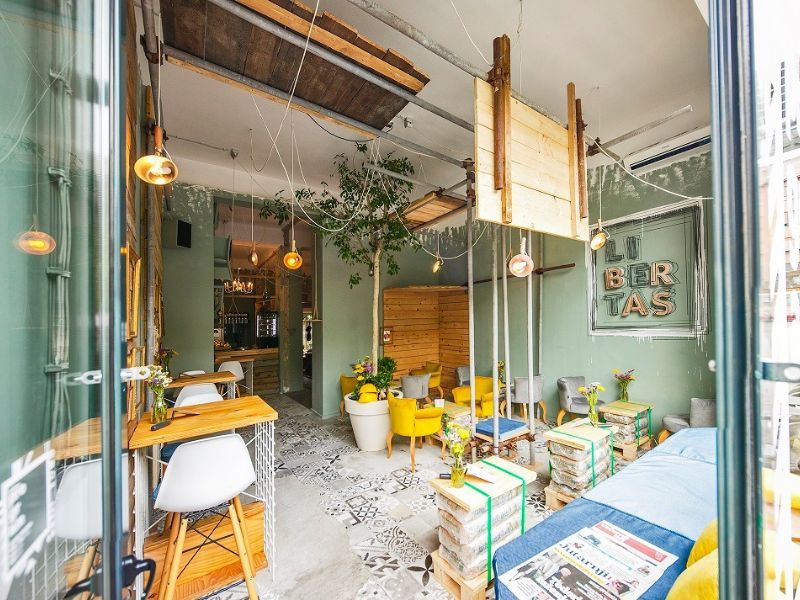 This bar opened relatively recently and it is a proof that the style and elegance can be present even if the venue is outside the strict center. At first, domestic interior of the bar gives the vibes of some kind of lounge bar. But, the atmosphere is more restful and the clienteles are calm people that wish to have their drinks at ease. The management of the bar allowed young artists to showcase their material on the walls so, most of the time, you can enjoy new creations of those future masters. With the standard offer of wine, juices and a coffee of supreme quality, you can order some snacks like orange and cardamom cakes. Considering that the design is so unprecedented, you will feel like you are in some kind of alternative dimension while sipping your favorite drink. Well, this article shows that everything in Zagreb is possible if you have the right designers and the passionate owners.
Bistro Gluten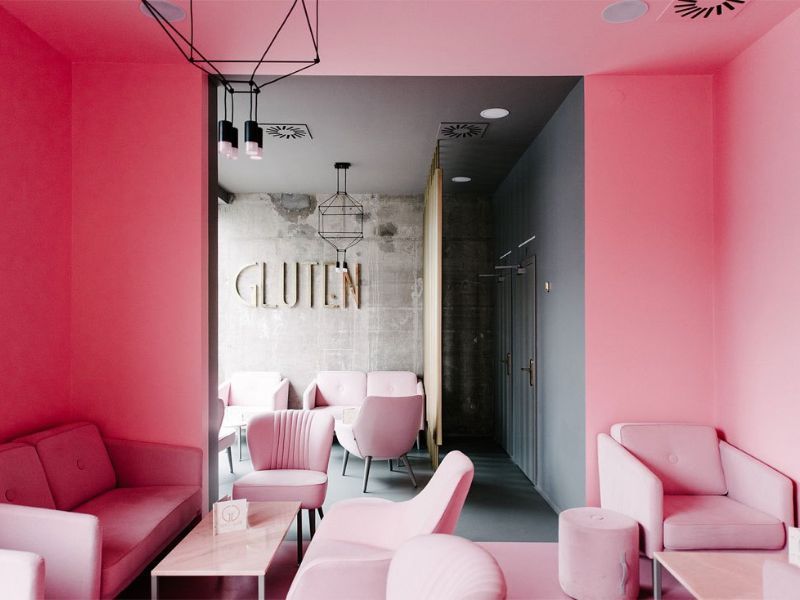 Another coffee shop which is great for your Instagram photos. Gluten free food is getting more and popular around the world. So, it was about time for someone to open specialized restaurant for that type of food. Gluten bar became a popular choice among the fans of the gluten free based food because of various reasons. The interior is decorated with pink hues and every segment of it has some kind of pinkish attire. To offer a certain contrast, some segments of the coffee shop are painted in grey. In warmer, summer days, you will have an opportunity to sit outside on the terrace which is painted in blue nuances. The owners are convincing us that nothing but the top class coffee will be served along with gluten and gluten free snacks. You can choose between juices and smoothies. Among the snacks, you can try homemade apple pie, chocolate and vanilla muffins and rolls with cheese and ham. If you ever find yourself near the faculty of economics on Kennedy square, orient yourself towards Sesvetska street. Pink interior of one particular coffee shop will invite you in.