When planning your trip to Croatia, you simply have to put at least one of the National Parks on your list. But, the real question is – which one? Plitvice Lakes or Krka Waterfalls? Sometimes, there is just a little time and you have to decide if you are going to make a turn on one of the exits while driving to the south on the A1 highway. To help you out a bit, we are about to list some facts and advices for both locations and make the conclusion at the end of the post. If you wish to go rafting on Plitvice lakes, check this itinerary page with some useful guidelines for adrenaline sports in this park.
For excitement on the rivers near Krka, this itinerary will give you some ideas.
Plitvice is the biggest and the oldest National Park in Croatia. Every year, the park is getting more and more beautiful because of the tourists who are protecting it and cherishing it while visiting. There are total of 16 lakes and every one of them has its own story that is told through gurgle and rustle of the waterfalls. The park is wisely organized and you can reach you desirable destination by walking on the neat walking trails, taking a mini train/bus or even the little touristic boats that will take you on the other side of the lake. Tourists who were visiting the park in the past said that a single day by the lakes is simply not enough. To make a most of it, try to reserve a room in one of the hotels in the near proximity of the park. During the vacation periods in the springtime and in the summertime, tourists can overflow the park and sometimes, it is hard to find your inner peace. But, if you are ready to wake up early in the morning, you can see parks wonders without the hordes of people walking around you. As for the entrance fee, you can save some money if you come during the off season or you can take a two day ticket. Tourists are also wondering: When it is the best time to visit Plitvice Lakes? Well, as we mentioned before, summertime can be critical because lots of people want to use the opportunity to visit the park during their vacations. But, period during October can be absolutely enthralling. There are not many people and the color of the waters looks simply magical. Unfortunately, swimming and bathing is strictly prohibited in the park since 2006. You probably red many itineraries and saw photos that were taken from unbelievable positions. We encourage you to find the best photo spot here! Although, don't forget to be careful. Many terrains in the park's territory are elevated so we strictly advise you to stick to the hiking paths and don't wander. All in all, we wish you to experience mesmerizing nature sightseeing and to come many more times. Because, people who visit Plitvice Lakes once, are having a strong desire to come back at least once more.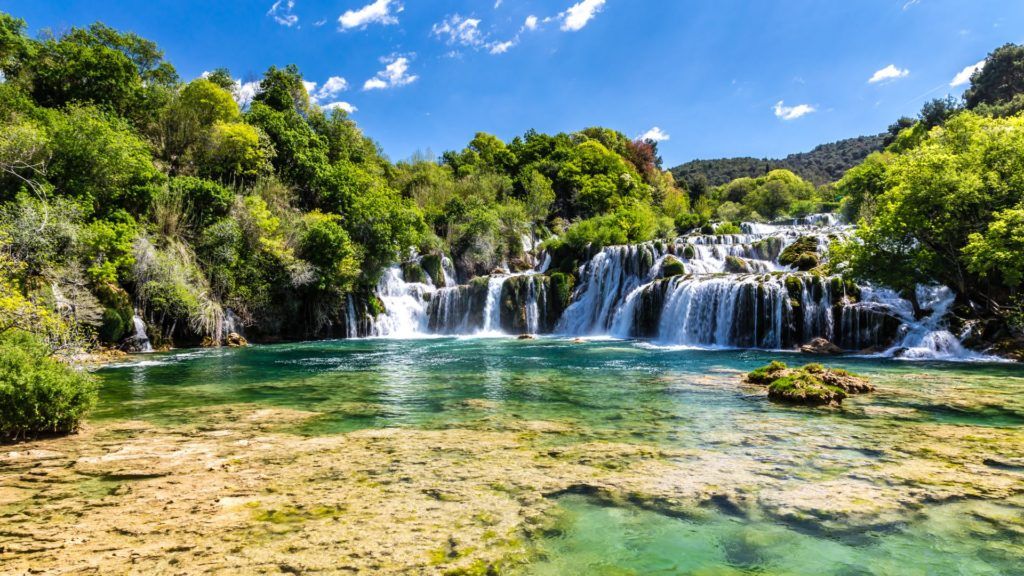 Krka National Park has waterfalls which will impress you in the same measure as Plitvice Lakes. Park's flora and fauna co-exist in harmony and you can see over 800 of species of plant life. Also, Krka is home to more than 200 bird species. The whole territory of the park has great prosperities for fauna multiplying. We have to mention that Krka is relatively close to the bigger cities of Dalmatia and you can visit it as a part of your daily trips. Šibenik is 20 minutes away, Zadar one hour and Split one hour and 30 minutes. Satisfied tourists say that Krka is equally impressive during the whole year. No matter if you are visiting in the springtime or in the summertime, waterfalls will tickle with your mind and leave you speechless. Don't forget to take your children to the park because the entrance is free for the kids below 7 years of age. If waterfalls are not enough for you, you can sit in one of the rustically furnished cafes and restaurants and enjoy peaceful surroundings. The park will also offer you numerous viewpoints and you can take fascinating photos from there. You can learn a lot about the old times if you visit one of the mills that can be found around the park. Last but not least, you can get on a boat that will take you to a small town Skradin, famous for its specialty risotto which takes 12 hours to make and was approved by Anthony Bourdain himself. A good thing is that swimming is completely permitted in Krka, but, for your own safety, obey the markings and don't swim in the unsafe areas.
Overall, it is very hard to decide between two parks. But, we recommend you to book your vacation in one of the more famous cities of Dalmatia (Zadar, Split or Šibenik) and go on a daily trip to Krka National Park. If you are living on the north, stop in Gorski Kotar so you can enrich your whole trip with visiting Plitvice National Park. When you come home, you can tell your friends that you saw two, not just one, wonders of the planet Earth. Because, when in Croatia, nothing is dull and ordinary. So expect your surroundings to be extraordinary.